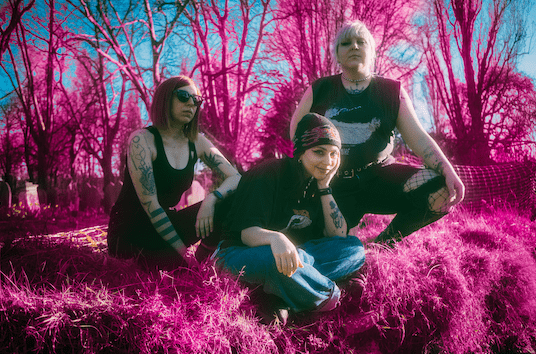 EP Review: Shooting Daggers - Athames
Reviewed by Dan Barnes
Having recently spent two nights at London's Electric Ballroom as support to rising Aussie stars Amyl and the Sniffers, Shooting Daggers are all set to release their debut EP, Athames. Named after a ritual blade used by Witches, the record features seven tracks of as angry punk and aggressive hardcore you could wish to be packed into sixteen minutes.
Shooting Daggers have managed the not-inconsiderable feat of blending a number of styles into a coherent whole without compromising on the band's message or delivering a mis-mash of a record.
At their heart, Shooting Daggers are a gritty, angst-fuelled punk band and they demonstrate their credentials from the outset as No Exit arrives with bombast and blistering pace. String-slingers and dual vocalist, guitarist Salomé Salgado Pellegrin and Beatrice Simion on bass, deliver a combined performance that is at one time barked and ferocious and at another breathless and filled with attitude. All of which is underpinned by Raquel J Alves' drums, which pound away with metronomic precision.
Liar and You Can't Kill Us follow a hardcore path, both being angry, take no prisoners pit-classics in waiting, imbued with no small amount of groove. Manic Pixie Dream Girl, originally released as a single back in October of 2021 brings a more tradition sound to the band's punk offering.
You wouldn't think that seven tracks in less than twenty-minutes would lend Shooting Daggers much in the way of scope to spread their creative wings, yet Carnage arrives four songs in a with a creeping bass line and a distinctly Sabbath vibe. Before reverting back to a punk platform, the razor-sharp riffing, mixed with the heavy Doom elements, would be the envy of many a beardy stoner.
Not content with experimenting with Doom, the ladies adopt an alternative outlook for We Will Live, laying down some rather Pixie-esque parts amid the progressive basslines and gothic melodies.
Closing out Athames is Missandra, a hypnotic chug with an off-kilter verse pattern and a big mid-section.
There is plenty on this short collection to get the listener excited about Shooting Daggers. The creativity on show from the band's three members makes a refreshing listen and whets the appetite for what may be to come in the not-too distant future.