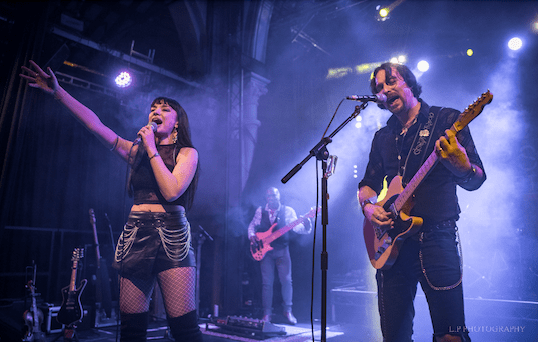 Live Review: When Rivers Meet – Colchester Arts Centre
29th April 2022
Support: Troy Redfern
Words & Photos: Lawrence Potter 
Fresh from winning Planet Rock's 'album of the year' with their latest release, 'Saving Grace', When Rivers Meet have a homecoming show at the Arts Centre in Colchester, and what a show it turned out to be! This is my first time seeing them live even though they've spent years on the circuit as a duo, impressing local crowds and beyond. This time round though they are joined with some new members to complete the lineup. I've got high hopes for this one.
First up to the stage we have solo act, Troy Redfern, and what can I say? This guy left the entire crowd in awe. With a unique sound that he has acquired with some world class slide guitar work on some vintage, modified, resonator guitars running straight into an amp and an assortment of wonderful pedals, it truly was something else! Other than playing a fantastic set of his own material, Troy also threw in a couple of crowd pleasing covers, 'John the Revelator' and one of the coolest versions of 'Voodoo Chile' I've ever heard. Hats off to Troy for perfectly setting the stage for our headline act coming up next.
Around 9pm, When Rivers Meet hit the stage to a loud ovation from their hometown crowd, and a thoroughly deserved one at that! Playing an array of some of their most popular tunes from their first EP, 'The Uprising' to the recently released 'Saving Grace' full album. This was a master class in blues rock but with a unique take. You could definitely say this duo have sculpted their sound into something quite special and recognisable.
Lead singer, Grace Bond, who is the wife of guitarist, Aaron Bond, mentioned how this was the tour that was meant to happen in support of their first full length album, 'We Fly Free' but due to the pandemic it's taken till now to finally happen. The band as a whole bought their 'A' game tonight for this show. A fantastic vocal performance as always from Grace, perfectly met with some stunning harmonies from Aaron, along with a huge guitar sound. We even got to hear his cigar box guitar in action!
Mid way through the set we were treated to the bassist, Roger Inniss and drummer, James Fox showing us what they can do. I can safely say Grace and Aaron have chosen well with the band going by this segment. This was a fantastic night of live music and being as when rivers meet live but fifteen minutes from my home I'm proud to have been at this gig with the rest of the band's friends, family and fans. Whether it's a show or one of their Facebook live sessions, they always make the listeners feel like they are truly part of their journey. Keep your eyes out for both acts playing in your area on the tour as they bring an unmissable show wherever they perform!