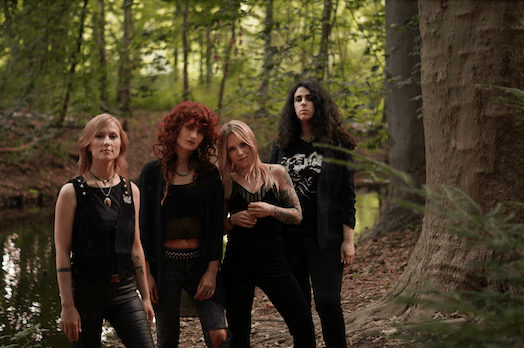 Album Review: Aptera - You Can't Bury What Still Burns
Reviewed by Matthew Williams
For those of you who are not up to date with your Greek mythology, Aptera was the site of the legendary contest between the Sirens and the Muses, from which the Sirens lost their feathers and cast themselves into the sea. The incarnation of Aptera is a cry of rebellion and of challenging establishments, taking flight and pushing forward despite opposing forces.
Four musicians, hailing from Brazil, Italy, Belgium and the US have risen from that sea and joined forces in Berlin, to produce a full length debut album full of raw emotion and creativity that refuses to be pigeon holed into one particular genre. The influences are vast, from Black Sabbath to Neurosis, Danzig to Mastodon, but are combined to make an album that is punchy, full of attitude and… is bloody brilliant!
It all begins with opening track 'Voice of Thunder' which starts with a delicious rhythm section that is just oozing class and style, then the head banging stoner riff kicks in, the pace of the song has a cracking ebb and flow to it, and delivers straight from the off. The drums from Sara Neidorf are hypnotic, and a real driving force behind this stunning opening song, and whets the appetite for what is about to follow.
'Selkies' follows up next, but begins with a far more echoey and haunting vocal, before another killer riff is released for our audible delight. It's another thing of beauty to be honest, keeping up with the sludge, stoner traditions that are cast creatively across the whole album, with this song touching social and political issues of the ill conditions of women in today's society.
'Mercury' feels like the sort of music that should accompany a dream sequence in a horror film, as it has a dark and sinister side, particularly the vocal performance from Michela Albizzati. The early section is a lot slower, but then a mean and moody riff encases the song, to go alongside the menacing oral outpouring. It certainly adds to the album, and showcases the talents of the band really well, adding a touch of black metal to their ranks.
'Unbearable Stain' has a more thunderous opening, drawing from 70s rock and classic 80s metal, as it's a lot heavier and faster than the previous songs, and has a sumptuous middle section, before the evil returns to complete a cracking composition and is by far my favourite song on the album. But it's the next track, 'Cosmosis' that breaks the album up nicely, and demonstrates the versatility of the band. With a more groovy, psychedelic tempo, it feels like the band having a jam session and deciding to do what comes naturally, and letting the listener in on their secret world.
The songs on this album feel strong and personal to the band, with lyrics on 'Days of Void' being more introspective, accompanied by a juicy opening riff that allows the band their weave their magic once again, whilst 'When the Police Murder' looks at social injustice and oppressive systems of authority.
'Nephenthes' is an eight minute epic journey, which turns one way, then another, then another. It gives a platform for the multi layered guitars from Renata Heom and Michela Albizatti, to combine with the propelling rhythmic section of drummer Neidorf and bassist Celia Paul and it delivers on so many levels.
This whole album, is one epic journey through lots of musical genres, that has something for everybody to enjoy and if Aptera don't put a smile on your face, then you need to seek help.