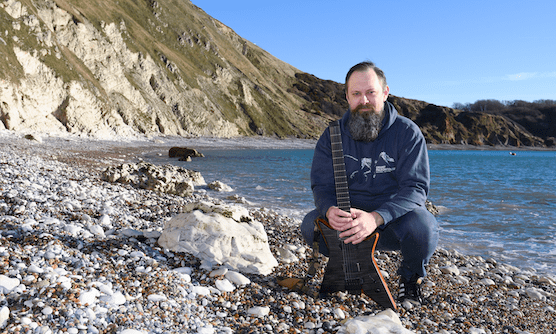 Album Review: Charlie Griffiths - Tiktaalika
Reviewed by Paul Hutchings
Changing direction from his main role as guitarist for progressive metal outfit Haken, Charlie Griffiths has found time to complete his debut solo album Tiktaalika. He draws in several guests to help with his self-penned lyrics, with Tommy Rogers (Between the Buried and Me), Danïel De Jongh (Textures), Vladimir Lalić (Organised Chaos) and Neil Purdy (Luna's Call) bringing their styles to the vocals. Alongside these luminaries, Griffiths has assembled a rather solid collection of musicians to assist with drummer Darby Todd (Devin Townsend), a synth solo from Dream Theater's Jordan Rudess and Rob Townsend (Steve Hackett) on saxophone to supplement Griffiths' own work on guitar, bass, and keys.
'Tiktaalika' is a concept album, with Griffiths drawing his inspiration from themes of geological time, fossilisation, transformation and humanity's connections with each other and the planet. Opening with the intro 'Prehistoric Prelude,' it's immediately evident that Griffiths is bringing a plethora of influences to the album with immediate flashes of progressive, thrash and technical metal all to the fore. Writing with a six-string instead of the usual eight string has reaped benefits on this album, as Griffiths has noted: "It sent me into a different creative headspace, with riff after riff seemingly falling out of the guitar. I naturally began forming those riffs into song structures, while simultaneously writing vocal melodies and building the lyrical concept. It was a great form of escapism from my usual environment, and I had a lot of fun doing it."
'Artic Cemetery' follows 'Prehistoric Prelude' and whilst it is punctuated with angular time changes, it's a stunning song that flicks between calm, gentle passages, and thunderous tech death parts, with Rogers able to deliver both growling roars as well as perfect cleans. At times it's part-Meshuggah thanks to Todd's unorthodox drumming, the sound huge
As might be expected, the release has a high-level quality production, one that makes listening to the release via headphones highly recommended. Listening to 'Luminous Beings' accentuated the intricate compositions, the layered vocals (in this case Danïel De Jongh) and the delightful avant-garde feel as the track moves between jazz movements and sections, with shades of more recent Opeth coming to mind.
As would be expected, a couple of the tracks stretch out in typically progressive manner. 'In Alluvium' is the first of three eight-minute plus songs which form the central pillar of the album, and it's also the first of two featuring Vladimir Lalić's impressive vocals, his voice at times very much the essence of Devin Townsend. The track, like each one on this release, is intricate and complex, yet beautifully delivered, with a constant ebb and flow throughout. It contrasts with the ,mellower 'Digging Deeper,' which sees Griffiths comfortably take lead vocals on a track that brings some calm to the otherwise intensive technicality of the album.
In fairness, there isn't anything about this album to dislike. The explorative title track and the explosive thrasher 'Crawl Walk Run' with De Jongh bringing his most aggressive roars are all up tempo, fiery yet full of melody and exquisitely crafted. The musicianship throughout 'Tiktaalika' is exceptional, and although it impresses greatly on first listen, diving deeper with it brings richer reward. An album that may not get the exposure it deserves, it's certainly one that should be on the list for any fan of progressive metal.