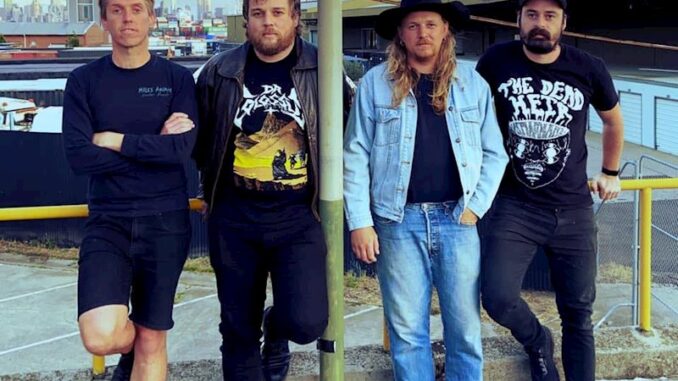 Album Review: Foot – You Are Weightless
Reviewed by Paul Hutchings
A quick glance through Foot's social media pages sees them stand in illustrious company on a playlist alongside the likes of Elder, Alunah, Goatsmoke and Acid Wolf. But there's more to this Melbourne based outfit, whose quartet revolves around the creative force of guitarist and vocalist Paul Holden, whose other band members change on a regular basis.
'You are Weightless' is the band's fourth release, and the first thing to say is that, apart from the slightly muddied production, there is plenty to explore. Foot generally sits in the stoner fuzziness camp, but they often drift to the more expansive sounds of Queens of the Stone Age, Dinosaur Jnr and even Mudhoney and Alice in Chains.
This is an album that ensures that no straightjacketed label is applied to the band, with a broader, rich soundscape that flows organically throughout the 40 minutes on offer. It's an enjoyable album, with the closing track 'Scared' one of many standout songs on the release. The guitar driven opener 'Bitter' flows freely between psych, stoner and even pop sensibilities, echoes of early Offspring occasionally springing to mind. The subtle keyboards bring a layered sound, adding both a contemporary and retro style which is both confusing yet welcome. It's the latter which resonates most with me, drifting as it does into a deeper psychedelic vibe towards the climax of the song.
In between these songs, Foot brings another five songs that all follow a similar pattern but with enough variation not to become repetitive. The mellow vibes of 'Caged Animal' belies its title, with a pleasing style of movement which flows in true AiC manner, partly due to the delicious vocal harmonies on the choruses. 'Fire Dance takes the band in a totally different direction, their spacey brand of thick riffing and surging bass lines propelling them forward, without any panicky urgency. It is composed, thoughtful and gently memorable.
Both 'Gold Lion' and 'I'll Be Fine' are upbeat, full of melody and infectious. There's little to dislike here with the vocals of Holden standing out even above the music. The riffs are heavy enough to keep those looking for something meaty interested, whilst the lighter side of the band will appeal to those who may parts of it a bit too fuzzed up. Even the slight industrial tinge to 'Impossible' crosses several musical boundaries.
It all adds up to an enjoyable release that will have you taping and nodding along. An album that can sit in the background or just as easily be the feature for more focused attention, Foot have released an LP that deserves a bit of time.