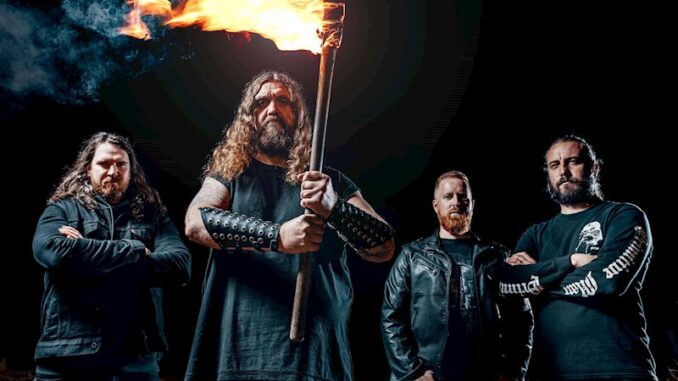 Album Review: Black Lava - Soul Furnace
Reviewed by Dan Barnes
Founded by former members of such Aussie bands as Vipassi, A Million Dead Birds Laughing, Hadal Maw and Ne Obliviscaris, Melbourne's Black Lava unleash their debut album, drawing influences from the old school Death Metal and Black Metal bands of far away Scandinavia. And although Soul Furnace dabbles with a plethora of influences over the course of its brief thirty-four-minute runtime, it never comes over as being an intended soundalike record.
Central to this debut album is the unmistakeably solid supporting core. Constructed from a heavy duty rhythm section, where huge toms and driving double bass kicks intersect with bowel-loosening bass guitar, Soul Furnace is a record build on the most solid of foundations.
The surety that Soul Furnace can weather whatever Black Lava throws at it allows the band to open their bag of tricks and see what happens. Whether it's the dense and heavy, yet strangely melodic, galloping progressions of Northern Dawn or the unexpectedly spastic riffing of Necocatacomb, which leaves the listener unsettled and in constant perplexity as to which turn will be taken next, Soul Furnace is a real journey of discovery
Like the Gothenburg originators, Black Lava imbue their aggression with a repeated listenability in the shape of a healthy smatter of affective grooves, memorable riffs and singable sections. Dropping directly into the end of opening intro piece, Origins, Aurora uses those chugging guitars and driving pulses to create some hook-laden earworms; similarly, the almost-Bathory-titled Baptised in Ice is all about that grooving riff, even though it is one of the heaviest moments on the record.
Peppered in amongst the Death Metal you'll find utterances of Scandinavia's other nineties musical export, in the form of Black Blizzard's heavy symphonic darkness; complete with whirlwind riffs and spacious interludes this track, along with Eye of the Moon and Nightshade, show the darkest of the musical arts still has much to give.
Bookending Soul Furnace are the previously mentioned Origins, a thunderous plod interspersed by blast beats and a surface skirting guitar and the closing title track, in which the bombast of the album takes a moment's repose to combine its eerie guitar and haunting vocal lines with harsh, punctuating drum blasts.
Soul Furnace by Black Lava is a fresh take on established principles and is constantly interesting to see where the band will take their ideas next. Well crafted and well constructed, this album suggests a bright future for these Australian lads.