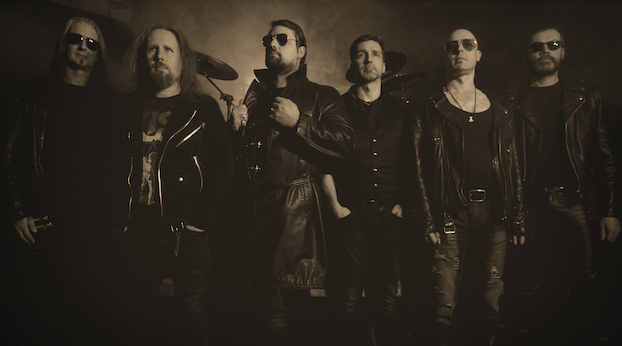 Album Review: Lord Vigo - We Shall Overcome
Reviewed by Paul Hutchings
I've seen their name around for several years, but I'd never explored Lord Vigo in detail. This is something put right on their fifth album 'We Shall Overcome', for the band from Landstuhl in Rhineland-Palatinate can now be considered big players in the epic doom scene, alongside the godfathers Candlemass, as well as US veterans Warlord and Swedes Sorcerer, to name just three.
The core line-up of Lord Vigo consists of Vinz Clortho (drums, vocals, keyboards), Tony Scoleri (guitars, bass) and Volguus Zildrohar (guitars, bass). Following on from their 2020 release Danse De Noir, We Shall Overcome carries a bold claim indeed, for the band state that it is the continuation of Rush's 2112, albeit 25 years later. The prequel to 'Danse De Noir', Lord Vigo explores a world where the elder race successfully abolished the dictatorship of computers only to fail in their attempts to install stability in ecological and political systems. Sound familiar?
Musically, Lord Vigo presents a fascinating and complex combination of sounds. Drawing deep on new wave of the 80s, large elements of progressive rock as well as massive swathes of epic metal. It flows organically, with drummer Clortho's impressive clean vocals startlingly rooted in those 80s outfits, whilst the metal parts of the band's sound source Manowar, Cirith Ungol, Candlemass, as well as drawing on the likes of Ultravox and The Cure.
A heady mix alright, and one that works in every aspect. Intro 'Blessed Are the Meek' segues into 'The Heart of Eternal Night', which includes snippets of Dylan Thomas' poem 'Do Not Go Gentle Into that Good Night'. It's emotional stuff as the band begin their story. Move through the songs and you'll be confronted by the indie vibes of 'From Our Ashes We Shall Rise,' a vibrant, pulsating track that has shades of Unto Others as well as the likes of Placebo and even the guitar drive of Primal Scream and The Verve. It's far from the normal heavy metal that we get here, and it's even more refreshing as a result.
The core of the band's music centres on drums, guitar, and bass, although Lord Vigo is comfortable with synths and keyboards to add breadth to their sound. They also intersperse their huge sound with shorter pieces, such as 'Journey to Eternity', which link the gargantuan tracks that sit here. It's all a comfortable transition, with the passages providing musical bridges between the songs.
The title track provides the central pillar of the album, and at close to eight minutes it needs to be epic. Lord Vigo don't fail with a huge piece that is both uplifting and defiant, almost a rebel song! Rich in melody, 'We Shall Overcome' brings the defiance to the top table once more. There are more influences that show their colours as the album races towards its magic conclusion. 'A Gathering of Clouds' mixes Roxy Music with Ghost with Fields of the Nephilim in a fabulous gothic tinged song, whilst the rampaging pace of 'A Necessary Evil' sees high bass tones that gallop the song along.
At times cinematic in production, the finale of '1986 – Book 1' complete with sound clips from that year leads into the final song, 'A New Dark Age' which is once more a mixture of alt-rock, new wave, and progressive touches. It's refreshingly different.
With dystopian themes, one could be forgiven for thinking that Lord Vigo is a dark band. Drummer Clortho captures it rather neatly. "'We Shall Overcome' and also 'Danse De Noir' are both dystopian in nature, dark and rather bleak, but with a glimmer of hope. We have included a few more progressive elements this time around, although calling it prog rock would be a step too far." It maybe that, for there is not really a badge to pin to Lord Vigo's chest. It won't appeal to all, but if you like it, it's likely you'll love it.