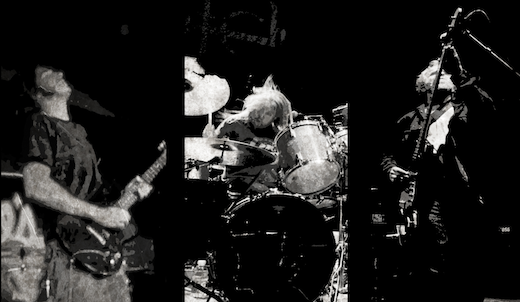 Album Review: Righteous Fool - Righteous Fool
Reviewed by Matthew Williams
As many of you will know, I'm a massive fan of Ripple Music, as they have released a plethora of outstanding recordings recently, so when you add that label alongside the names of Corrosion of Conformity's Mike Dean and the late Reed Mullin, then you know that it's going to be something special. And I have to admit, it doesn't disappoint.
Raleigh based rockers Righteous Fool, were formed in 2009, on the impulse of the late Mullin and guitarist Jason Browning, and they quickly invited long term friend Dean to join them. COC were on a hiatus, so Mullin and Dean hadn't spoken in years, but when they got together as a trio the magic was still there and the songs began to flow.
And as you'd expect from the mega talented duo of Mullin and Reed, the songs are a smouldering infusion of hard rock, heavy blues, stoner and punk, and mixed with Browning's outstanding guitar work, they've produced some amazing grooves and face-melting riffs, that all begin with the mellow opener called 'Enter the Fool', which takes a heavier turn about a minute in, and you get that adrenalin rush of a band getting ready to unleash their splendour to the world.
And second track 'Asteriod' is where the fun really begins, with Browning's epic riffs coming to the fore. It's a short, punchy, aggressive track, with Mullin's drumming really kicking into full effect, leading into 'Shifty' which continues the chest pounding riffs, that just make you feel so, so good and thirsty for more.
When they originally released their two track 7" 'Righteous Fool' in August 2010, they toured with the likes of Clutch and Weedeater, before ending up as support for COC, with Mullin and Reed playing two sets each night.
The beauty of having three amazingly talented musicians come together, is that the possibilities are endless, and the creative genius on display is of the very highest quality. Songs like 'Forever Flames' and 'The Overblown' are just amazing, and will happily stand up against anything that the heavy rock/stoner/heavy blues genre has to offer. Another impressive part of the album is that all three share vocal duties, adding so much depth and variety to the music.
I can't pick fault with this album, as from the word go, it encapsulates everything that I love about music, and like me, you'll probably struggle to find a favourite song, as they are either beautifully mesmeric like 'Hard Time Killing Floor' or just hard as hell, full on rock goodness like 'Low Blow'.
So sit down, turn it up to 11 and enjoy