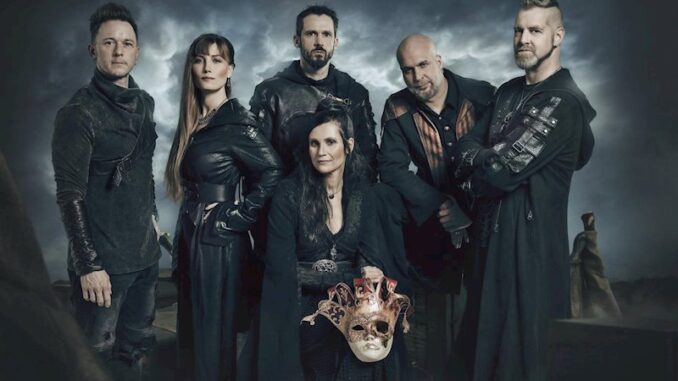 Album Review: Schandmaul – Knüppel aus dem Sack
Reviewed by Rick Eaglestone
Schandmaul celebrate 25 years returning with their eleventh studio album Knüppel aus dem Sack.
Sitting down to listen to this release I feel like I've rewound the clock about fifteen years as along Schandmaul Corvus Corax have a new album out later in year, there was a time where the folkier side took up huge part of my listening time and collection and I'm feel like I'm just about to fall down the rabbit hole once more…
The album starts off with the title track Knuppel aus dem sack, has a great riff reminiscent of a Rammstein track but the folk elements subtly creep in and before you know it, they have crept in and planted themselves comfortably into the track, a great start & all sudden I want mead and drinking horn for some reason.
There is no doubt with next track Konigsgarde that I am firmly down earlier said rabbit hole, highlight track material right here & my god is it catchy, following this is Das Gerucht which is short and swift but still manages to implant an earworm. This is followed by Der Pfeifer which not only has a great melody but has a storytelling feel to it.
Tatzelwurm has a hypnotic feel to it and Der Flug is once again super catchy and one that I can see being a favourite on the festival circuit. I thought Der Quacksalber was going to be an instrumental track, it was not but in the context of the album I would have minded as it would have worked, and this opinion stays as the circus style start to Luft and Libe comes through on its merry way via the speakers.
The folk gets turned up to eleven with Gluck Auf! which is then followed by the levellers worthy Irgendwann, one of the singles and the track that got my attention to start is up next Niamh is still a great track and an excellent choice for a single it also has a great accompanying video.
Der elfseitige Wurfel still maintains the feel of the album but then the final track Long John Silver puzzles me as it is the only one with an English title but its still sung in German as is the rest of the album – strange option but nevertheless a great track.