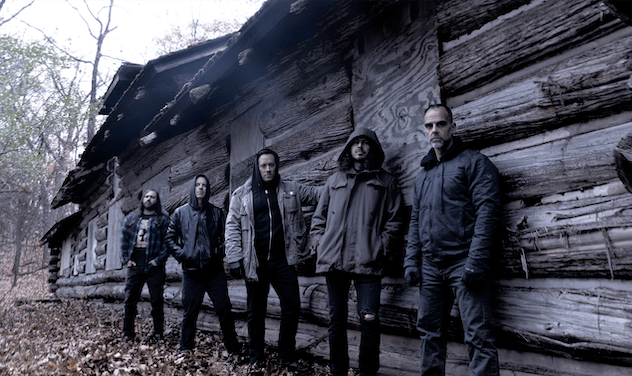 Album Review: Temple of Void - Summoning the Slayer
Reviewed by Sam Jones
Temple Of Void are a band I have been following for some years now, preparing to unleash their fourth studio album upon their audience. By this point in their career, Temple Of Void are no strangers to Death/Doom metal, they know exactly what they need to bring to ensure fand will keep returning to their sound. Formed in 2013 out of Michigan, United States, the band really exploded onto the death/doom scene with their debut album Of Terror And The Supernatural; an album that equally impressed me also having been possibly one of the first modern death/doom releases to truly stun me. Following their 2017 Lords Of Death record which met with glowing acclaim, the band's third album dropped in 2020 slap bang in the middle of the COVID lockdowns which most certainly rendered The World That was with a more eerie air to it. Now, another two years on, the band return to give us their fourth album within a decade of their formation. While I enjoyed their previous album, I did feel like something was off and didn't quite meet up with what I believed they achieved with Lords Of Death, however early track teases were indictive of positive reception, and I was ready for what Summoning The Slayer could offer me.
Against what many death/doom acts attempt, Temple Of Void have opted for a bass sound that doesn't need to be jammed way into our faces to feel felt. I'd argue, by utilising the bass in a more nuanced manner, it actually renders it with a much more sinister undertone. It's this slithering and skulking force that's forever present as the band are playing along, and the bass is easily audible when you know what to listen out for. Happily, the band introduce this bass mix to you early on in the album so you'll know precisely what to listen out for. The band literally point your head in the directions they'd wish you to observe. Overall, this record's bass is that friend in the group project that may not be massively vocal, but the project would feel hollow if it weren't there at all.
What really surprised me about this album is how Temple Of Void have seemingly simplified their songwriting. The band have always had a straight up approach to their sound given their death/doom identity, however it's never felt as apparent as it does throughout Summoning The Slayer. The riff is stripped down to a more simplified attack than we've had in previous releases yet it comes off with a much more distinct impression; there's less fluff getting in the way of the band's riffs this time round. It definitely feels like the band took their time at refining their soundscape to the point whereby their riffs can pierce precisely where they're looking to place them without anything interfering with our capacity to enjoy them. The band, from time to time, do break out more intricate segments however for the most part, Temple Of Void have really gone back to basics with this record and yet, it's because of this approach I felt these riffs and tracks resonating with me more than I felt with their last record. As a nice nod to Paradise Lost, this record also, from time to time, infuses it's sound with a touch of gothic metal that certainly elevates the band's sound to different horizons that they've touched upon beforehand e.g. "Deathtouch"
Owing to how the band have rearranged their songwriting for this record, it really demonstrates it's effectiveness because the band give us just 7 tracks here, many of them being fairly longer pieces each as well. Yet, these tracks don't feel like they're the lengthier works that they are at all. I think it's because the band do not bombard you with a ridiculous number of elements at once, they've made the wise decision to keep things straightforward. By doing so, it means our attention isn't so overwhelmed by everything at once, thereby enabling us to pick and choose where our attention may go. It softens the blow to our senses and allows us to kick back much more and enjoy what the band have in store for us. It's that ease of listening that gives the band the ability for their longer songs to stay with us because they're not looking to fill every minute nook and cranny with atmosphere. In this case, the music truly speaks for itself.
The vocals that Temple Of Void have used throughout their studio albums must be one of my favourites amongst the plethora of death/doom acts. Honestly not much is that unique here as their frontman demonstrates he's lost none of his bile and vitriol over the years as the band leap from one album to the next. With that said however, I believe they come across with much more power than if the band had overloaded their record with additional elements. It hearkens back to my point regarding the ease of listening to the songwriting because of this lack of interference going on. Since there is less to get in the way of experiencing this album's soundscape, it means the audience can soak up all the power and might the riffs and vocals can equally infer. In addition, the vocals aren't the variant that seek to dominate and pound your fragile form into the earth. They have this encompassing and bellowing element that allows the vocal performance to feel like it's swallowing the entirety of the album. Listening to the vocals off this record is like tripping into a gaping void due to how immense their sound is and yet, they don't possess that much mass so we're able to thoroughly enjoy them and the atmospherics they provide without being steamrolled into the earth.
In conclusion, this album is exactly what Temple Of Void needed if you ask me. While I can still return to their previous record and enjoy it thoroughly, Summoning The Slayer feels like the more realised and focused record of the two. I've got no issues in saying this is tied with Lords Of Death as the band's best material. Surpassing 40 minutes barely, this record flies by not because it's super fast but, because it isn't. This is death/doom, it isn't supposed to feel fast but this record goes by at that rate mainly down to the ease of listening. The band's emphasis on stripping everything away seriously bolstered this record's performance. 7/8 minute tracks felt shorter than 3 minute pieces because we were able to see where the songwriting was going and we knew what the band had in mind for us. The band give us some idea of what they're going to do but other than that, it's really up in the air for the band to implement and try something different; the Paradise Lost influence is one such aspect. Closing out with a beautiful acoustic piece, Temple Of Void remind us why they're amongst the top new dogs of this generation's death/doom sound. Summoning The Slayer is one of 2022's best death/doom releases so far.