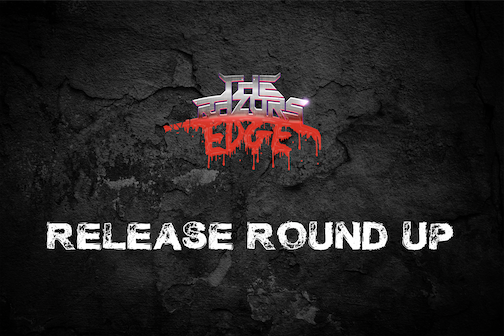 Release Round Up - June 3rd, 2022
Every Friday there is a tidal wave of new music released unto the world. Whilst we try to cover as much as possible here at The Razor's Edge, it's not always possible to review everything. So each week on a Friday we'll round up some of the best new music available, some we've reviewed, some we haven't, but all worth checking out!
Theres a lot of new heavy music hitting the airwaves this week, everything from black metal, death metal, gothic metal, Stoner rock, doom, thrash metal and even some of your traditional heavy fuckin' metal!
Here's what we think you should check out today!
Killswitch Engage unleash an epic live album this week in 'Live At The Palladium' via Metal Blade Records.
"experience the full force of the Killswitch Engage battering ram."
Read our full review here.
Bleed From Within release album number six, 'Shrine', via Nuclear Blast.
"Filled with ferocious charging riffs and an omnipresent kickdrum they are the product of a band in complete control of their art"
Read our full review here.
Barbaric interplanetary warriors GWAR return with 'The New Dark Ages' this week on Pit Records.
"Blothar's vocal range really encapsulates the raw hate the band has for the current state of the world."
Read our full review here.
Saudi Arabian purveyors  of death metal Sijjeel drop 'Salvation Within Insanity' via Comatose Music this week.
"a collection of savage visceral riffs"
Read our full review here.
French doom masters Witchfinder release new EP 'Endless Garden' via Mrs Red Sound.
"instead of some roaring beast in the distance, the band craft a more ethereal and undefinable atmosphere"
Read our full review here.
Rockers Crobot are back with album number five 'Feel This', released via Mascot Records.
"It may be commercial, it may be accessible but it's also a thumping good hard rock album."
Read our full review here.
Long Islanders Artificial Brain release heir self titled album via Profound Lore Records this week.
"a 45 minute opus that will leave you gasping for more as you effortlessly decide to smash that replay button."
Read our full review here.
Solo death metal outfit Buried Realm unleash their self-titled album this week.
"fresh sounding and high energy"
Read our review here.
Thrashing New Yorkers Brotality unleash 'The Woods Will End You' via Rottweiler Records this week.
"containing elements of thrash metal, whilst reaching out into the shimmering realms of progressive metal, and weaving them together to make something really interesting."
Read our full review here.
Somerset riff monsters Sergeant Thunderhoof return with album number four 'The Sceptred Veil' on Pale Wizard Records.
"Complex and addictive, the tactile sticky riff grabs hold and really does not let go."
Read our full review here.
While She Sleeps reimagine their 2021 release with the special edition of 'Sleeps Society'.
"this new presentation of Sleeps Society manages eschew the cynical cash-grab label and, instead be a vital addition to any While She Sleeps fan's library."
Read our review here.
Texan doom mob Las Cruces release 'Cosmic Tears' on Ripple Music this week.
"a fantastic doom album harking back to the classic doom of yesteryears."
Read our full review here.
And thats just the tip of the iceberg! Other releases today we think you should check out include...
Rock / Hard Rock / Classic Rock
My Diligence - The Matter, The Form and Power (Mottow Soundz)
The Cruel Intentions - Venemous Anonymous (Indie Recordings)
The Fixx - Every Five Seconds (BFD)
The Shenandoah Electric Company - LP1 (Pax Aeternum)
Thornhill - Heroine (UNFD)
Valleyheart - Heal My head (Tooth & Nail)
Heavy Metal
Amulett - Glassbreaker (RipRide Records)
Antimozdebeast - Mother Earth (Self-released)
Battlelore - The Return of the Shadows (Napalm Records)
Dampf - The Arrival (Nueva Musica)
The Oklahoma Kid - Tangerine Tragic (Arising Empire)
Torn Between Two Worlds - As If We Never Existed [EP] (Self-released)
Death Metal
Cabeza - False King (Self-released)
Corrosive - Death As A Process (Black Sunset)
Iron Tomb - Vile Retribution [EP] (Self-released)
Lethargic - Woodo Tumba (Vrykoblast Productions)
Malignant Aura - Abysmal Misfortune is Draped Upon Me (Bitter Loss Records)
Pestifer - Age of Disgrace [Remastered] (Xenocorp)
Sleepers Guilt - What Remained (Self-released)
Temple of Void - Summoning The Slayer (Relapse Records)
Black Metal
Bergsvriden - Gastkramad (North Fog Records)
Hellevaerder - In de nevel van afgunst (Self-released)
Likheim - Alt Skal Svinne Hen... (Underground Kvlt Records)
Sacrilegious Crown - Forbidden Vestiges of Veneration (Xenoglossy Productions)
Wrang - De Vaendrig (Dominance of Darkness Records)
Stoner Rock / Psych / Doom / Sludge
Breaths - Isolera (Self-released)
Druids - Shadow Work (Pelagic Records)
Sail - Emotional Motion Queen [SINGLE] (Self-released)
Somnus Throne - Nemesis Later (Heavy Psych Sounds)
Thrash Metal
Defiatory - Apokalyps (Black Lion Records)
Doubting Thompson - Revelations [EP] (Sliptrick Records)
And the rest...
Astronoid - Radient Bloom (Century Media) [Post-Metal]
Big Drink - It Was Supposed To Be Easy [EP] (Self-released) [Pop-Punk]
Fortis Ventus - Vertalia (Rockshots Records) [Symphonic Metal]
Kollaps - Until The Day I Die (Cold Spring Records) [Post-Industrial]
Seeking Sirens - Departing Ways [EP] (Self-released) [Metalcore]
The Algorithm - Data Renaissance (FiXT) [Synthwave/Punk/Metal]
Various Artists -  Ukrainian War Refugee Support
A Pelagic compilation (Vol. I & II) (Pelagic Records)