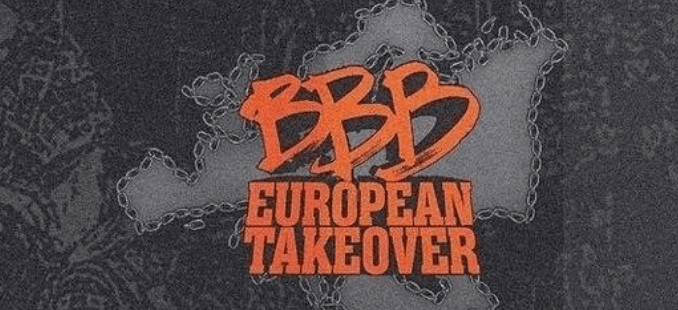 Live Review: Triple B European Takeover – Leeds
18th June 2022
Line Up: Pain of Truth, Last Wishes, Three Knee Deep, Buried Dreams and Life's Question
Words: Daniel Phipps
The Triple B European Takeover part 1, brings 4 US heavyweights Three Knee Deep, Buried Dreams, Pain of Truth and Life's Question to arguably the best underground venue in the U.K. (part 2 of this tour comes across in July btw featuring Magnitude, Dead Herts, Restraining Order, Warfare and The Fight). It was an early start with doors at 5pm but the venue had a steady stream of bodies coming through the doors in time for the start of the first band.
It's 6:30pm the request to move forward or we will "unleash some animals up front" moves the crowd to the front of the stage (judging by the various large gentlemen with 3 initials on their hats and shirts this is probably a wise move). By 6:35pm the crowd is moving and someone is already bleeding so Life's Question certainly does their job of getting the crowd ready. The bands blend of straight up hardcore, with catchy hooks, heavy moshy sections and a touch of melody give us a solid well performed opening to the evening.
Catching everyone off guard are Boston's Buried Dreams as they start while the bar is still being frequented. However the venue quickly fills up as the band blast through a furious set of fast paced hardcore. Out of the 4 bands they are the most traditional sounding hardcore band, their sound I can only really describe as "Boston" as it comes across with a Slapshot pace meeting a Blood For Blood rowdiness. The tracks are short, sharp and packed with a punch which gets the crowd reved up to go nuts at any possible moment.
Three Knee Deep take the crowds energy level up a notch (in the words of Bender from Futurama BLAM). The band from Tampa Bay get the crowd going wild with their brand of metallic hardcore which is packed full of heavy mosh riffs which causes the floor opening from side to side as they blast through their set. I'm not overly keen on the band on record but hardcore is always better in the flesh and the bands energy is top notch from start to finish.
Last Wishes were not originally billed to play but as the members were present and there was an almost 50 minute wait for Pain of Truth the band originally from Northern Ireland jump on and bust out 3 jams. I've seen this band 5 or 6 times on various line ups with each time they improve with great energy whilst remaining a tight live unit.
Pain of Truth, yeah this was rowdy as hell. Their EP "No Blame…Just Facts" is an extremely high energy effort but can the band replicate this live. Short answer: yes. They whip the crowd into a frenzy as they blast through the set. No long winded stoppages, just track after track with the crowd barely able to catch their breath between them. Drop in a Shattered Realm cover and you have utter carnage with bodies flying everywhere, from every corner of the pit, off the stage, the roof (maybe). It was a display of hardcore bliss in the best way possible.