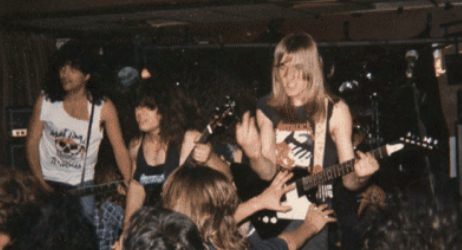 Album Review: Mortal Sin – Mayhemic Destruction / Face of Despair
Reviewed by Carl Black
One for the thrash completist. 
Australia's Mortal Sin where not only doing everything right and following a well-trodden path that has seen a cornucopia of thrash bands rise from the pubs and clubs and enter the higher realms of thrashdom, but they also had three golden ticket moments that only Willy Wonka himself could hand out.
When the devastating meteor hit the thriving thrash scene that had been pitting and stage-diving for the best part of a decade. What that meteor was…. is for another review, but it hit and hit hard. Mortal Sin were making progress up the ladder but the shockwave of "thrash uncoolness" flipped them off their upward trajectory, landing them in a crumpled heap on the floor.
What they left behind is a trio of dine out moments, two fantastic thrash albums and a stand-up comic.
Mayhemic Destruction is a typical thrash debut. It suffers a lot from a poor "angry Wasp" guitar sound and a lack of refinement. But what it lacks in refinement, it makes up for in camaraderie, energy and chaos. Coming from Down Under gave them a USP and it was around this time that they received the first of their golden tickets with a support slot with Metallica around their home land on the And Justice for All... tour. A feat not lost on a lot of critics as Metallica where taking very unthrash support bands out with them at this time (Danzig, The Cult, Warrior Soul to name but a few).
One album and tour cycle later Mortal Sin where back, and they were back with a vengeance. A new Album, Face of Despair had a streamlined sound. The production was slick, the riffs where sharper, the songs were developed, the arrangements were different. They were starting to progress and improve. They had a killer anthem in 'I Am Immortal'. Thrashers started to pay attention.
They found themselves supporting the influential and cult like, Faith No More (I assume Mortal Sin can thank Jim Martin for this golden ticket). At the beginning of 1990 they landed the chief support slot with Testament at the famous Hammersmith Odeon which indicated that Mortal Sin would follow such bands as Death Angel, Nuclear Assault, Anthrax and Testament themselves, and headline Hammy-O later on and secure their seat at Thrashes top table.
Alas as history tells us that was not to be, these two albums get the re-issue treatment and come with all the refinements of a Bond car. Vinyl release, coloured vinyl, re-master and a book that charts their achievements including the events mentioned in this review.
Completists, go ahead and complete. If you can only afford one, buy Face of Despair, if you've never heard of them, you should give them a go. And when listening ask yourself, which one of the three golden tickets would you have liked to have witnessed?