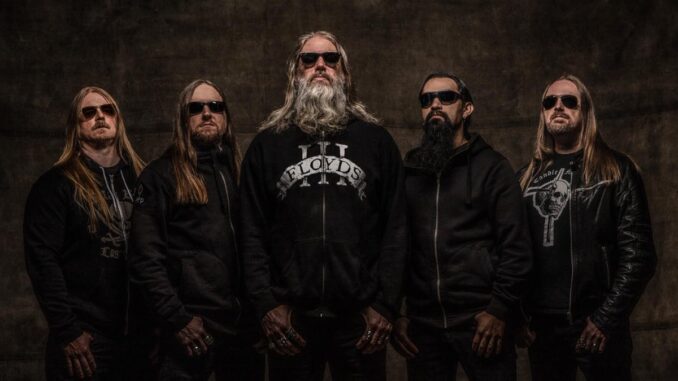 Album Review: Amon Amarth - The Great Heathen Army
Reviewed by Tim Finch
Marauding Vikings and slayers of the heaviest of metals Amon Amarth return on August 5th with their twelfth studio album 'The Great Heathen Army' landing via Metal Blade Records.
Speaking of the album, vocalist Jonas Hegg stated "'The Great Heathen Army' is one of the heavier albums we've made." and that statement is evident from the opening notes of 'Get In The Ring'. It's a dark and heavy number, it's shear weight bludgeons the listener as Jonas cries out for a fight, a song written for their friend and wrestler Erick 'Redbeard' Rowan who has often sported the bands t-shirts in the ring.
Despite the heaviness of the opening, those traditional Amon Amarth trademarks are still evident. The albums title track 'The Great Heathen Army' has a groove laden opening riff that leads both the band and the listener into battle, waves of pummelling guitars crash down upon you as you get enveloped by this album.
Excluding the opening number, the theming of the album is as ever entwined with Viking folklore, heading into battle and tales of outright war. The gritty sound that has become their trademark over many years is prevalent and ties the story telling into the music perfectly.
With Andy Sneap in the production chair and a band aiming to revisit the roots of their sound, Amon Amarth have recorded a stand out piece of heavy musical excellence. Is it as good as 'Twilight of the Thunder God'? Maybe not, but it's not far off! 'The Great Heathen Army' is the work of a band who have come full circle, refining their sound and their image to near perfection.
With an arena tour set for the UK in the coming months, we cannot wait for the next chapter in Amon Amarths brutal story.