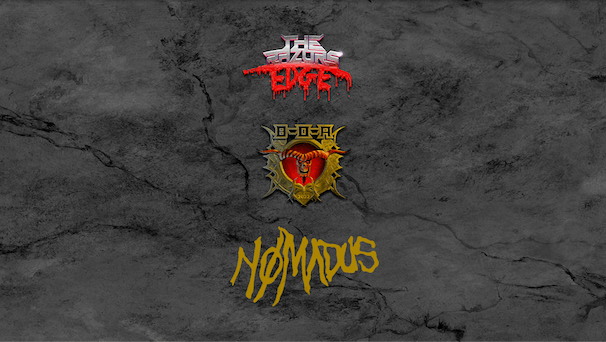 Bloodstock 2022: Introducing - Nomadus
As Bloodstock gets closer, we delve deep into the line up to find out more about some of the bands playing the New Blood and Jägermeister stages at this years event.
Today we chat with Nomadus!
The Razor's Edge: Please introduce yourself and your band mates.
Nomadus: We are Nømadus:
Fredy - Vocals/Lead Guitar
Neil - Rhythm Guitar
Carl - Bass
Brett - Drums
The Razor's Edge: How would you describe your style of metal?
Nomadus: We would consider our style to be a mix of Thrash, Prog and Groove metal. A lot of melody/harmonies as well, we have the influences of bands like Sepultura, Gojira, Coroner, Crowbar etc…
The Razor's Edge: How did you land your spot on the Bloodstock bill?
Nomadus: We got to the final on the M2TM competition and were the runners up. Got the call from Simon Hall to play the New Blood stage as well as the winners which is amazing.
The Razor's Edge: How tough was the competition this year?
Nomadus: It was tough, because the competition and scene up in Belfast is very good. All bands were excellent, really delivered every gig and so did we. It was really diverse as well regarding genres from Thrash to Doom, Metalcore, Hard Rock. When doing a set every detail counts, like the transitions, flow, sound and how tight can you play.
The Razor's Edge: What does playing at Bloodstock mean to you?
Nomadus: It means a lot, we've been aiming to go to Bloodstock since we started playing live which was actually our first gig, the M2TM competition in 2019. Playing the best metal festival in the UK and that stage as well it's an amazing opportunity.
The Razor's Edge: For people who've never seen you live, what can they expect at Bloodstock?
Nomadus: We try to play as tight as we can. You can expect a lot of energy in the riffs and set flow, there's never really a dull moment where there's a lot of filler space. There's always interesting parts in every song that keeps the crowd's attention and it's all about the music. Fast, groovy, head banging songs that keep the beer flowing haha
The Razor's Edge: What day are you performing?
Nomadus: Friday, the 12th
The Razor's Edge: What other bands are you looking forward to watching at Bloodstock this year?
Nomadus: We hope to see as much of the New Blood bands as possible. Haint were the winners of the Belfast M2TM and good friends of ours, so definitely be there for them, as well as the big acts which we are not too worried because we will play early in the day. But to name a few bands we hope to see that don't clash with the New Blood - Testament, Exodus, Eyehategod, Avatar, Cattle Decapitation, Orbit Culture, Lamb of God…
The Razor's Edge: Playing the New Blood Stage is just the first stepping stone in a bands journey. What's next in your plans for world domination?
Nomadus: The next step for us is to get our first album out, which we aim to release later in the year. Hopefully get a good response and have a few gigs/tour promoting it and get our music out as much as possible.
The Razor's Edge: See you at Bloodstock in a few weeks!
Nomadus: See you soon and thanks for the support!