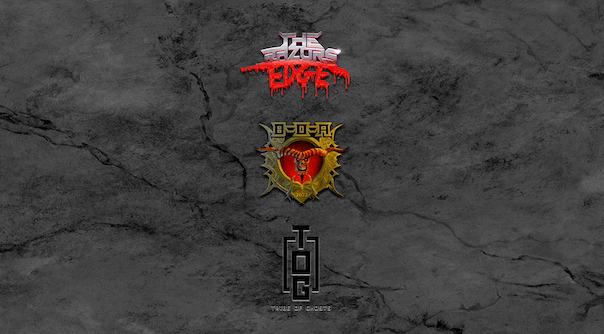 Bloodstock 2022: Introducing - Tribe of Ghosts
As Bloodstock gets closer, we delve deep into the line up to find out more about some of the bands playing the New Blood and Jägermeister stages at this years event.
Today we chat with Tribe of Ghosts!
The Razor's Edge: Please introduce yourself and your band mates.
Tribe of Ghosts: We are Tribe of Ghosts - A Brighton based 4-piece comprised of Ben Kitching on Bass, Danny Yates on drums, Adam Sedgwick on Guitar & Vocals and Beccy Blaker on Vocals.
The Razor's Edge: How would you describe your style of metal?
Tribe of Ghosts: We have coined the term 'Industrial Post-Metal' to best describe our sound- mainly due to members of our local scene not quite knowing how to define our style so we get away with using it. Our overarching statement, which may better describe our sound, is 'Dystopian Music for a Totalitarian World'. We pull influence from Perturbator, Cult of Luna and Chelsea Wolfe all the way through to Charli XCX, Rina Sawayama, and Bambie Thug. We're very much a post-modern musical hybrid, which works perfectly for the concept of our music - a dystopian society in slow motion collapse. With our members being involved in the UK metal scene over recent years, Tribe of Ghosts is a band of exploration and experimentation for our artistry.
The Razor's Edge: How did you land your spot on the Bloodstock bill?
Tribe of Ghosts: We gained our place on the Bloodstock through Metal 2 the Masses. We are the reigning winners of the Brighton region this year.
The Razor's Edge: How tough was the competition this year?
Tribe of Ghosts: Competition was tough this year to say the least! We're lucky to call many of the competing acts our good friends- and they most definitely kept us on our toes throughout the competition process; so much so that Brighton finalists All Hail Dog will be playing the Jägermeister stage this year! Both our heat and the final were nail biters for us, and we were honoured when we were announced this year's Brighton winners back in June.
The Razor's Edge: What does playing at Bloodstock mean to you?
Tribe of Ghosts: As a collective and as individuals, performing at Bloodstock this year is a monumental event. Though Tribe of Ghosts have been around since 2018, members Danny and Beccy did not make their live debut with the band until October 2021, when the band's current sound was still in its infancy. The band's sound as it currently stands was not fully realised until the beginning of 2022, and our Metal 2 the Masses heat and regional final were our 2nd and 3rd shows of the year. For Ben and Beccy, this will be their first performance at Bloodstock. In fact, Beccy had not performed publicly fronting an original band since late 2014, re-honing her stagecraft through a baptism of fire. Performing at Bloodstock at this stage in the band's tapestry is a statement of how far we've come in such a short space of time and where we plan to go. 2022 has been a hard and fast roller coaster and we feel that the only way is up. On an emotional level, Adam is really looking forward to the Bloodstock experience, as when he last performed with King Leviathan on the Sophie Lancaster stage back in 2018, he was battling severe anxiety and cannot remember the performance or much of the weekend itself. Playing Bloodstock this year is the opportunity to perform and experience the festival the way it should be.
The Razor's Edge: For people who've never seen you live, what can they expect at Bloodstock?
Tribe of Ghosts: It's a cliche, but expect the unexpected! We're a mix of crushing riffs, ethereal harmonies, punishing drums, pop hooks, fear-inducing growls - all of this surrounded by electronic soundscapes to illustrate the dystopian society that we've constructed throughout our music.
The Razor's Edge: What day are you performing?
Tribe of Ghosts: We're performing on Saturday on The New Blood Stage.
The Razor's Edge: What other bands are you looking forward to watching at Bloodstock this year?
Tribe of Ghosts: So many! We're of course looking forward to seeing some of the big names such as Behemoth, Red Method, Jinjer, Sleep Token, Malevolence and Heriot. But we're beyond excited to cheer on all the bands playing New Blood and Jägermeister stages this year - it's a celebration of the underground scene and how much it means to us, we would not be here without it.
The Razor's Edge: Playing the Jägermeister Stage is just the first stepping stone in a bands journey. What's next in your plans for world domination?
Tribe of Ghosts: We'll be looking to record our debut album by the end of this year with our next single already chosen. We've only played a small handful of shows in the south, so we plan on sharing our music further afield in the Autumn - watch this space!
The Razor's Edge: See you at Bloodstock in a few weeks!
Tribe of Ghosts: Thank you so much for this opportunity! We're counting down the days and can't wait to see you there.