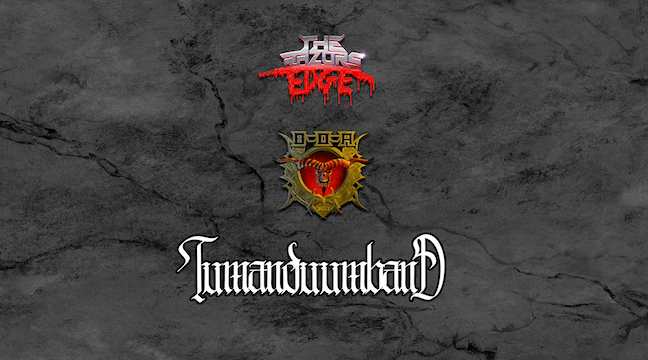 Bloodstock 2022: Introducing - Tumanduumband
As Bloodstock gets closer, we delve deep into the line up to find out more about some of the bands playing the New Blood and Jägermeister stages at this years event.
Today we chat with Luke, drummer with Tumanduumband!
The Razor's Edge: Please introduce yourself and your band mates.
Luke: We are Tumanduumband! Satanic Doom Duo from the Black Country, West Midlands. Made up of Luke Duum on drums, skulls and blood rites. And Scott Duum, master of riffs, on bass.
The Razor's Edge: How would you describe your style of metal?
Luke: Instrumental Doom. Huge riffs and skull crushing drums.
The Razor's Edge: How did you land your spot on the Bloodstock bill?
Luke: We won the Birmingham leg of M2TM!
The Razor's Edge: How tough was the M2TM competition this year?
Luke: Birmingham and its surrounding areas are full of talented bands so it was really tough!! The heat on the day of the final also made it harder for everyone
The Razor's Edge: What does playing at Bloodstock mean to you?luke
Luke: It means a lot to us. We have been working hard since our conception back in 2018, building on our song writing and stage craft. Having been runners up in the 2019 M2TM we really wanted to redeem ourselves. Covid put a halt to that until this year when we finally won.
Being able to perform our Rifftual at such a legendry institute of British festivals is such a privilege and amazing opportunity.
The Razor's Edge: For people who've never seen you live, what can they expect at Bloodstock?
Luke: Our "Rifftual" is a sonic representation of pure evil. Be ready for the ground shaking sounds coming from Scott's bass, taking you on an audio journey to hell. Accompanied by my skull crushing battle drums that will pound you into submission. Clad in robes and ceremonial blood, we terrify and amaze in equal measure.
The Razor's Edge: What day are you performing?
Luke: We are playing on the Friday!!
The Razor's Edge: What other bands are you looking forward to watching at Bloodstock this year?
Luke: Well, as always, the entire lineup is amazing this year with a great variety of bands. But Eyehategod, GWAR, Mercyful Fate, Venom Inc., Mastiff etc. really stand out for us. Also our good friends Bile Caster have been added to the Jägermeister stage too which is great.
The Razor's Edge: Playing the New Blood Stage is just the first stepping stone in a bands journey. What's next in your plans for world domination?
Luke: Due to being so busy with shows so far in 2022, we haven't had chance to record any new material in the studio so we are hoping to rectify that this coming Autumn.
So one (or more) releases alongside many, many more Rifftuals around the country and we hope further afield!
The Razor's Edge: See you at Bloodstock in a few weeks!
Luke: Satan be praised!