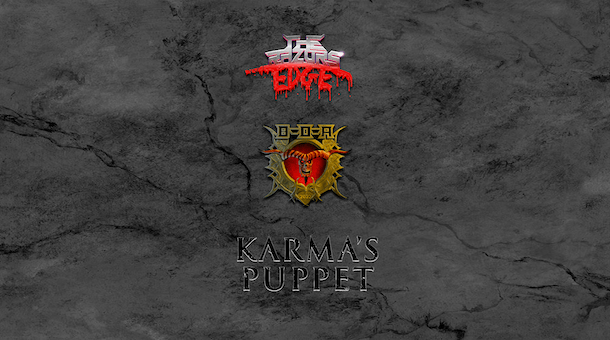 Bloodstock 2022: Introducing - Karma's Puppet
As Bloodstock gets closer, we delve deep into the line up to find out more about some of the bands playing the New Blood and Jägermeister stages at this years event.
Today we chat with Karma's Puppet!
The Razor's Edge: Please introduce yourself and your band mates.
Karma's Puppet: Hi there! or as we say here in Macclesfield "Ay-yup". We're Karma's Puppet. On vocals, we have the one and only Alex Blaikie, and on guitars Simon Mayo and Matt Poole. On bass, we have Tom Perry, and last but by no means least we have Max Hodson on drums.
The Razor's Edge: How would you describe your style of metal?
Karma's Puppet: As a band, we have some quite eclectic tastes in music, and we like to think this comes through in our music. We dish out heavy and progressive riffs and a lot of melodic and anthemic choruses, but with an element of groove to it too. It's been quite difficult to sum ourselves up in a single genre, but we probably sit somewhere between Lamb of God and In Flames.
The Razor's Edge: How did you land your spot on the Bloodstock bill?
Karma's Puppet: In January 2022 we entered the M2TM competition at The County Music Bar in Chesterfield (which wasn't particularly local to us, but we love the venue and the people there) We have a bunch of content on our Facebook page on how we prepped for the final as well as footage of the performances throughout the competition, so make sure you check that out at: facebook.com/karmaspuppet
The Razor's Edge: How tough was the competition this year?
Karma's Puppet: The calibre of bands in the Chesterfield competition was insane! So many great bands entered this year and we knew from the outset we needed to work hard to pull off the win. However, the bands were really supportive of each other and there was a great atmosphere throughout the competition. Huge shout-outs go to Death Divine, Reanimate, Kaparillion, Steal The City, Spiteful Embrace and Yesterday's Gone to name but a few
The Razor's Edge: What does playing at Bloodstock mean to you?
Karma's Puppet: Without sounding like a cliché, it's a dream come true! To share the same bill as bands such as Lamb of God and Behemoth is just mind-blowing! Having been to the festival several times before, our vocalist recalled seeing all the names of bands for the New Blood stage listed at the festival when he attended back in 2019 (in the very early days of KP) and thought "one day, that'll be us!!"
The Razor's Edge: For people who've never seen you live, what can they expect at Bloodstock?
Karma's Puppet: At Karma's Puppet, we focus very heavily on our performance and bringing a huge amount of energy to every one of our live shows and Bloodstock will be no exception! We have so much fun when we're up there and it's contagious! There is no excuse not to have a great time at a KP gig, whether you're singing along, pitting like a trooper, or just enjoying the music.
The Razor's Edge: What day are you performing?
Karma's Puppet: You can catch us on Sunday but the majority of us will be around for the whole weekend so come and have a beer or 12 with us!!
The Razor's Edge: What other bands are you looking forward to watching at Bloodstock this year?
Karma's Puppet: So many! First and foremost will be our friends in Portrail of Ruinn, Steel Mage, Cast in Tephra, and Guilt Trip who we cannot recommend enough. On the other stages; Lamb of God, Behemoth, Jinjer, Dimmu Borgir and Bloodywood are all definitely on our list!
The Razor's Edge: Playing the New Blood Stage is just the first stepping stone in a bands journey. What's next in your plans for world domination?
Karma's Puppet: We've worked hard to get this far, and it doesn't end here. We hope to get as much as we can from playing and having played Bloodstock to open more opportunities further down the line. Whether that be returning to Bloodstock in the future or securing places at other festivals and events. We want to use this opportunity to connect with the Metal community too, by way of media, press and of course directly. This will be a perfect opportunity to network with new fans, new bands and more, to take Karma's Puppet to the next level. We're also very active on Social Media and this will be an ideal situation to create fresh new content for our fans!