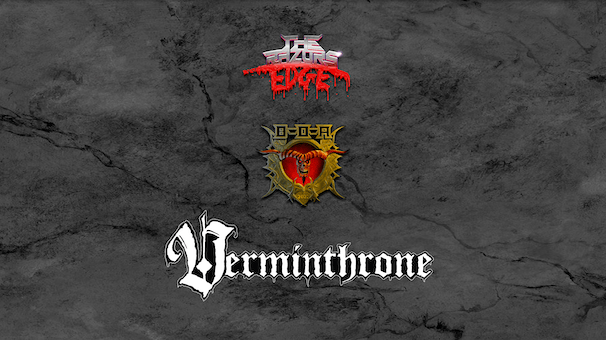 Bloodstock 2022: Introducing - Verminthrone
As Bloodstock gets closer, we delve deep into the line up to find out more about some of the bands playing the New Blood and Jägermeister stages at this years event.
Today we chat with Verminthrone!
The Razor's Edge: Please introduce yourself and your band mates.
Verminthrone:
Dan Banshaw - vocals
Alex Stephenson - Lead guitar
Matt Duffy - Rhythm guitar and vocals
Pal Losanszki - Bass
Adam Connell - Drums
The Razor's Edge: How would you describe your style of metal?
Verminthrone: Groovy sludge with hardcore and black metal elements. We love some filth but aren't afraid to get groovy.
The Razor's Edge: How did you land your spot on the Bloodstock bill?
Verminthrone: We won the Milton Keynes M2TM competition.
The Razor's Edge: How tough was the competition this year?
Verminthrone: Ferocious. The bands this year were really the cream of the crop of local talent, we were blown away each time sharing a stage with them. It's a fantastic competition though and we'll be back next year to support in whichever way we can.
The Razor's Edge: What does playing at Bloodstock mean to you?
Verminthrone: It still hasn't sunk in properly yet, but it's mind blowing. It's the biggest stage we've played on and we couldn't be more both honoured and excited.
The Razor's Edge: For people who've never seen you live, what can they expect at Bloodstock?
Verminthrone: Energy, and lots of it. A heavy, fast, slow, angry and emotional performance.
The Razor's Edge: What day are you performing?
Verminthrone: Friday 12th August
The Razor's Edge: What other bands are you looking forward to watching at Bloodstock this year?
Verminthrone: Eyehategod and Lamb of God are right up there for us.
The Razor's Edge: Playing the New Blood Stage is just the first stepping stone in a bands journey. What's next in your plans for world domination?
Verminthrone: Our debut EP 'Kingdom of Worms' is being released on July 29th. We have future shows booked in up and down the country to play both our EP and new/old material.
The Razor's Edge: See you at Bloodstock in a few weeks!
Verminthrone: Thank you, to say we're excited is an understatement!