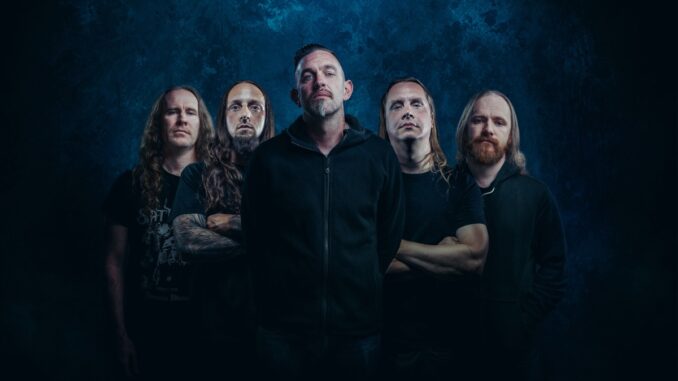 Album Review: Psycroptic - Divine Council
Reviewed by Daniel Phipps
Having spent over two decades firmly putting their stamp on the map with their brand of technically precise death metal the Australian band Psycroptic are set to release their 8th full length output in August which will be titled Devine Council. Even before hitting play Divine Council impresses as Psycroptic adorn this release with beautiful artwork from artist Eliran Kantor who's stunning brushstrokes cover the album. Now artwork is completely different from music but it already sets an impact for the record.
Divine Council is a refreshing sound for the technical death metal style. Where a lot of bands are concerned with razor fast sweeps and stagnant overly produced throw away riffs, Psycroptic produce utterly solid tight rhythms which they lay over with their technical playing to give you a really thick and full sound. The guitar playing does not hold back when it comes to giving the album a much welcomed brutal kick at points which adds an extra notch of intensity to the albums overall atmosphere. Complementing every riff is a very welcomed punchy bass tone which right from the opening bars of the album makes itself known. This punchy sound on the bass is becoming more prominent in death metal records and that should continue in my opinion, there is just something about that tone I enjoy.
Another very apparent trait of Divine Council is its epic sounding atmosphere. This comes both musically from tracks like 'The Prophets Council' and 'Enslavement' where the fast paced technical approach complimented by a higher focus on the use of atmospheric structures or the crushing opening track 'Rend Asunder' which the vocals give it a more anthemic feel, which is especially apparent during the chorus section. On the subject of vocals frontman Jason Peppiatt and his intense vocal display blasts through each track and the power displayed is impressive especially as his style is not your typical guttural sound. Additionally current Origin and ex Skinless frontman Jason Keyser along with Amy Wiles who adds a female voice allows Psycroptic to produce ollective vocal attack to compliment the severity of the music. The drums offer a solid and sturdy backbone to each track. Drummer Dave Haley turns on the flash with relentless clinical extreme drumming when necessary, but when it's not required he provides rock solid playing with his kicks just never stopping.
Divine Council is a non-stop piece of technical excellence. I seriously cannot find anything to really grumble about, the playing is about as solid as you can get and the production is slick and allows each element to be clearly audible for the listener. Psycroptic nailed how you do tech death with this release and is a must listen in my opinion.