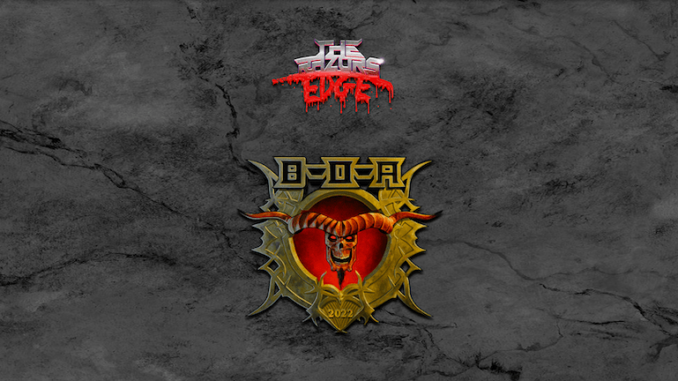 Bloodstock 2022: Who Is The Secret Band?
Ever since Bloodstock announced that there would be a "very, *very* special 'surprise set' from an internationally renowned band" speculation across the internet, in pubs and clubs across the country has been rife. Who could be playing that set? Have Vicky and the Bloodstock team scored a major coup here?
We will all find out on the Friday of the festival exactly who that band is, but for now, The Razor's Edge team assess the runners and riders and the odds of them playing in the secret slot.
*to note: This piece is pure speculation. We have no inside knowledge and we take no responsibility if you lose your life savings betting on it being a band we speculate on 😉 
Bolt Thrower – For years Vicky has been trying to get Bolt Thrower to play. Damnation scored the win here in 2014 when they booked the legendary band. When someone speculated that this may be the case on social media Vicky liked the post adding fuel to the fire. But could they be coming out of retirement one last time?
The key here is Memoriam. With key members now in this band their schedule is key, and as luck – or coincidence – would have it Memoriam have no shows on Bloodstock weekend.
Likelihood: It's possible!
Arch Enemy – Their new album drops on the day the secret set is to be played. They are due to tour the UK later this year but are not on the current Bloodstock line up. With Alissa's other half (Doyle) already on the bill, might it just be…?
Again existing tour dates are the key here, and Arch Enemy are currently scheduled to play in Finland on Friday. So it doesn't seem like it's them.
Likelyhood: Nope!
Metallica – Yes some people have really speculated this. Whilst it seems unlikely, the band do have a history of doing surprise sets, from those legendary shows at the Marquee in London through to that surprise show in the tent at Download. The surprise set history is there. Add to that the bands recent appearance in Stranger Things and that also being the theme of the festival on Friday. Speculation mounts.
Despite that surly Metallica are just too big for Bloodstock, surprise or not, Bloodstock have a budget so could they really afford Metallica and pull off this coup? The band have stadium shows in Buffalo on Thursday and Pittsburgh on Sunday, so logistically, they could hop on a flight Thursday night and be at Bloodstock for Friday afternoon.
Likelihood: Seems unlikely but 'Stranger Things' have happened 😉
The Halo Effect – a band featuring former members of In Flames, they certainly meet the 'internationally renowned' billing. They also have a new album out which drops on Bloodstock Friday.
Logistics wise they don't have a gig booked for Friday, but they are due to play Japan on Sunday so it is do-able. Add to that Mikael Stanne is on site on Thursday with Dark Tranquillity so he's already in the right place.
Likelihood: Outside chance.
Slipknot - So whilst this does seem as unlikely as Metallica there are some additional factors to take into consideration. Vicky does have a friendship with Corey, Slipknot are in Europe with a date in Finland on Saturday and of course Corey's son opens the main stage on Sunday. It seems like it could be possible… and just think how mental Slipknot in that tent would be, it would certainly top the legendary Suicidal Tendencies set!
Likelihood: I wouldn't bet your house on it, but maybe a chance of a Corey solo show…
Misfits – The legendary New Jersey punks have yet to bring their reunion tour to the UK, having fixated on sporadic US dates. It is known that they have out priced themselves in the past causing Download to take a pass on the opportunity. However, their guitarist is already onsite with Doyle playing the main stage with his solo band on Friday. Will Glenn and Jerry make a surprise appearance?
Likelihood: You never know.
Anthrax – So this one is a no right out of the box. They are on tour in the US, playing Orlando on Friday, so it's not them. Tour support is Black label Society and Hatebreed, so you can rule both of those out too.
Likelihood: It's a no!
Trivium / Ibaraki – They were highly speculated as headliners for this years festival. Of course that turned out to be incorrect, but could Trivium be the secret band? With their US tour not starting until September, it is a possibility! Similarly, with his solo album Ibaraki out this past May, could Mr Heafy be doing a solo set? You never know!
Likelihood: Plausable
Amon Amarth – Bloodstock favourites, previous headliners, massive fan base, new album just out, no clashing tour dates. It might just be… there are also rumours going round that they will do a secret/last minute set at Wacken this weekend, in which case… is the cat already out of the bag?
Likelihood: Genuinely possible.
Alien Weaponry – New Zealand's greatest metal export have only last week finished up a European tour with Gojira. They took the Sophie stage by storm a few years ago and are in demand by the fans. Logistically, there are no other tour dates in their diary getting in the way of this.
Likelihood: There's a chance it might be
Evil Scarecrow - the Bloodstock house band, they've played so many times we've lost count. At this point we've run out of guesses. Could it be Evil Scarecrow? Are they 'internationally renowned'? A secret set is probably the only way they'll get on the bill without the keyboard warriors moaning about repeat bookings.
Likelihood – bet your life savings on this one. Pretty much guaranteed, right?
Obviously all this is just speculation. We'll all find out on Friday just who the secret band is!