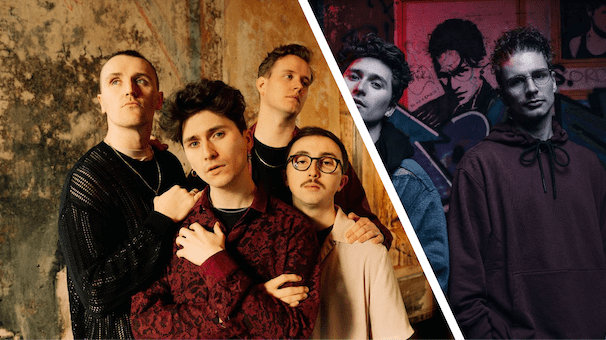 EP Review: Holding Absence / Alpha Wolf - The Lost & The Longing
Reviewed by Dan Barnes
Australian Metalcore bruisers, Alpha Wolf and Welsh Alternative Rock band, Holding Absence, have teamed up to create this four-track split. Rather than it being an individual showcase for both bands, The Lost and The Longing really does what a collaboration between artist should do and present what happens when the two collectives put their creative heads together.
This disc features two collaborations from the named band and featuring the other. So 60cm of Steel is an Alpha Wolf track, featuring Holding Absence; whereas Aching Longing is vice versa.
Opening the disc is the Alpha Wolf led 60 cm of Steel, three and a half minutes of punishing Metalcore that wastes no time in setting out its stall and coming hard out of the blocks. Flailing guitars and raw vocals give an unrelenting and unforgiving experience and when Lucas Woodward arrives to add his voice to the mid-sections, he encounters a landscape decimated by the Antipodean mob.
Later, when it's Holding Absence's turn to lead the way on Aching Longing, they do so with the kind of Alternative, Post-Hardcore and emotionally resonant stylings which has seen that garner acclaim from numerous quarters and spots at both Download and Slam Dunk festivals over the past twelve months. That's not to say the band aren't without their aggressive moments but, when compared to their associates, they appear to be more brains than brawn. Those aggressive tendencies are illuminated by the contribution of Alpha Wolf barker, Lochie Keogh, who confirms that Holding Absence could well be being led astray by this friendship.
Each band gets their own track and Alpha Wolf's Hotel Underground begins with the exclamation Fuck it! Before wrecking everything they didn't manage to break with their collaboration. Pounding instrumentation and excoriating vocals leave no listener in any doubt who the evil twin is in this relationship.
Holding Absence close out the disc with the all-together more poised Coffin, a melancholic ode that isn't without its fiery moments.
To bring those two disparate artists together in one release seems a little off kilter until you consider the light and shade, the emotional energy of Holding Absence in direct juxtaposition with the stomping, visceral assault of Alpha Wolf. And, you know what, it really does work.
Or, to put it another way, Holding Absence is the sort of new partner you'd take home to meet your mum; Alpha Wolf – not so much, but hang on for a wild ride