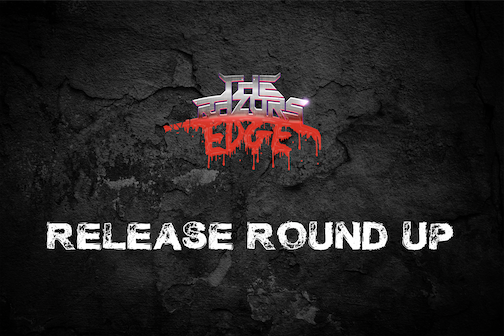 Release Round Up - August 12th, 2022  
Every Friday there is a tidal wave of new music released unto the world. Whilst we try to cover as much as possible here at The Razor's Edge, it's not always possible to review everything. So each week on a Friday we'll round up some of the best new music available, some we've reviewed, some we haven't, but all worth checking out!
Theres a lot of new heavy music hitting the airwaves this week, everything from black metal, death metal, gothic metal, Stoner rock, doom, thrash metal and even some of your traditional heavy fuckin' metal!
Here's what we think you should check out today!
Arch Enemy are back with album number 11, 'Deceivers'.
"As a full package the album is by far the best new Arch Enemy material in a quite a few years, never ones to stand still they deliver the freshest sounding album of the year so far."
Read our full review here.
Swedish melo-death supergroup The Halo Effect release 'Days of the Lost' on Nuclear Blast this week.
"This is music that is fast, heavy, melodic, anthemic and altogether joyous."
Read our full review here.
Melodic hard rockers Nordic Union release 'Animalistic' via Frontiers Music this week.
"a heavy riff driven album with spectacular hooks and melodies."
Read our full review here.
Hollywood Undead are back with album number eight 'Hotel Kalifornia'.
"a cacophony of noise that, at times, works quite well."
Read our review here.
And thats just the tip of the iceberg! Other releases today we think you should check out include...
Rock / Hard Rock / Classic Rock
Hydra - Point Break (Frontiers Music)
Restless Spirits - Second To None (Frontiers Music)
Spryes - Dear Diary [EP] (LAB Records)
Sunstorm - Brothers In Arms (Frontiers Music)
Unprocessed - Gold (Spinefarm)
Waac - At Least I'm Free (Dew Process)
Heavy Metal
A-Z - A-Z (Metal Blade Records)
Heart of Gold - Beautiful Dangerous (Sharptone Records)
Of Virtue - Sinner (Arising Empire)
Seventh Storm - Maledictus (Atomic Fire Records)
Slaves of Dissonance - Toxoplasmosis [EP] (Self-released)
Death Metal
Blasted Heath - Vela (Wise Blood Records)
Wolfbrigade - Anti-Tank Dogs [EP] (Agipunk/Armageddon)
Black Metal
Demolyn - Tales of Demolyn (Self-released)
Mimorium - The Route of Haeresis (Spread Evil)
Stoner Rock / Doom / Sludge / Psych
Ereb Altor - Nattramn [REISSUE] (Hammerheart Records)
Opium Lord / Under - SPLIT EP (APF Records)
Metalcore
Bleed Like Mylee - Nuk Soo Kow (Self-released)
Norma Jean - Deathrattle Sing For Me (Solid State Records)
Viridis - Dead Weight (Self-released)
Prog Rock / Metal
Building Upon The Revelation - The Pathways of Discipline (Self-released)
Leviathan - Mischief of Malcontent (Self-released)
Vanden Plas - Live And Immortal (Frontiers Music)
And the rest...
Fraser Edwards - The Reckoning (Self-released) [Instrumental Power Metal/Bluegrass]
Kilfeather - Armchair Revolutionaries (Riot Records) [Punk]
Locrian - New Catastrophism (Profound Lore) [Experimental/Post-Rock]
Moreish Idols - Float [EP] (Speedy Wundergound) [Post-Punk]
Sarattma - Escape Velocity (Nefarious Industries) [Post-Metal]