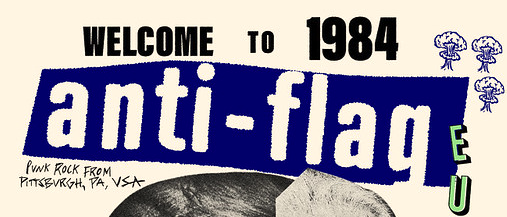 Live Review: Anti-Flag - Rescue Rooms, Nottingham
5th August 2022
Support: Last Hounds, Tigress
Words: Daniel Phipps
Fresh off their slot at the prestigious Rebellion festival in Blackpool, US punk act Anti-Flag head to the Rescue Rooms in Nottingham to kick start the weekend.
Opening the evening are Birmingham's Last Hounds who are welcomed onto the stage with a small but eager audience already clutching onto the barrier. The 5 piece melodic hardcore band spend no time whatsoever getting the audience familiar with them as they sprint through their opening 3 tracks in back to back fashion with them bringing a high energy performance whilst also remaining consistently tight musically and vocally. This continues throughout the 30 minute set as the band leave the stage to applause from the crowd. They may have come on first to a small crowd compared to later in the evening but Last Hounds certainly didn't slack in the effort department.
Following Last Hounds is Tigress who walks out to a sizable raw from the eager crowd. Tigress offers a far more refined and slick live performance, which is extremely well executed with each musician along with their front woman having an extremely professional stage manner but in all honesty really lacked the entertainment value. The band did offer really great and confident audience interaction to compliment their slick performance and really worked the audience in order to gain additional energy from the crowd which worked in the bands favour. They leave 25 minutes later to another sizable cheer from the crowd which they brought forward to fill out the dance floor.
Anti-Flag instantly makes a statement as the US veterans storm the stage like a whirlwind of energy. The crowd reciprocates by singing at the top of their lungs as the band rip through their opening number. Bass player Chris Barker cannot keep still as he literally charges the stage at one point joking that he boobie trapped himself by knocking over water whilst climbing a cab to leap from the water landing directly in his path, (he still leaps but in another direction). The energy from the band is non stop, briefly stopping between songs to spread their strong message before launching into the next track, this keeps the bands energy continuous and the crowd barely having a chance to catch its breath. The only prolonged stoppage sees the band talk about the war in Ukraine prior to playing The American Attraction. By this time it's curfew time but in true punk rock fashion, the curfew is disregarded as Anti-Flag blast into a medley of classic punk songs from artists like The Clash, Ramones & Sham 69 to name but a few. Finishing with Cities Burn, Anti-Flag leave the stage to a cheering crowd, no encore as it should be.