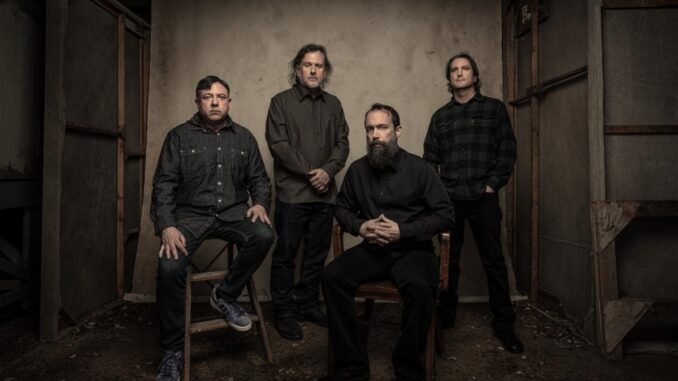 Album Review: Clutch - Sunrise on Slaughter Beach
Reviewed by Tim Finch
Clutch are a band that just get stronger with age, now thirty years and thirteen albums into a career the past decade has seen the bands best releases to date. Following the classic 'Earth Rocker', 'Psychic Warfare' took the band to another level, and 2018's 'Book of Bad Decisions' kept the band at the pinnacle. So in 2022 with thirteenth album 'Sunrise on Slaughter Beach' on the horizon, can they maintain that form?
Well the simple answer is "Yes, why did ask such a stupid question?". Clutch have a song writing formula that works, very well in fact, so well its one you just can't imagine ever failing. On 'Sunrise On Slaughter Beach' the band pick up where they left off in 2018.
Opening the latest opus with 'Red Alert (Boss Metal Zone)', a song that has seeped into the public consciousness since the band released it as a single a few months prior. The albums title track follows, a slow burner of a tune, that really drags the listener in. Much like they did on their previous few works the band experiment with sounds with great results and there are moments on this track – and indeed throughout the album – where the listener listens on wondering where those special segments of each track have mysteriously appeared from.
'Mountain of Bone' has a magical high pace, it's almost anthemic and one that will shine when they tour later this year. 'Nosferatu Madre' has that southern twang we are so used to Clutch utilising, a slow paced, almost Louisiana sound with John-Paul Gaster's rhythmic pounding of the drums and a glorious riff from Tim Sult acting as a bridge mid song.
Clutch albums have a groove, a rhythm, a beat that provides the listener with that warm feeling inside. That sense of belonging, the sense of everything being just right. You can dance, nod you head and just had a good time getting lost in their music. In 'Sunrise on Slaughter Beach' that continues. This is a Clutch album and my god it's good!