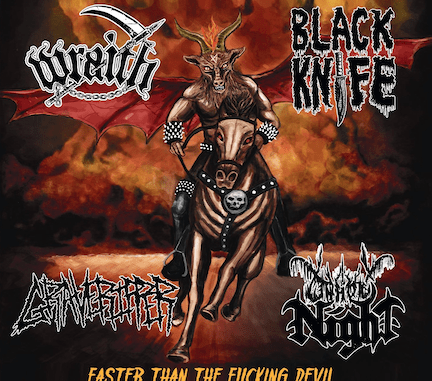 Album Review: Wraith/Black Knife/Graveripper/Unholy Night - Faster Than The Fucking Devil
Reviewed by Rick Eaglestone
Immediate admission time – black thrash really puts me in just the best mood when I hear it, if I am tired it gives me that boost and if I'm in lets just say not the best of moods it immediately pulls me out of that dark cloud, so imagine my joy at finding out about a 4 way split from Wise Blood Records with artwork that looks like a cartoon version of The Devil Rides Out I'm already invested so let's go and discuss Wraith/Black Knife/Graveripper/Unholy Night – Faster Than The Fucking Devil (sorry mum)
Straight out of the gates of hell with their three infernal hymns are Wraith 'Demons of Doubt' immediately sets the tone for the release, the mid-tempo change is the track is joyous with swirling solos bringing back the face pace one again. '(Call Me) The Destroyer' has the vein of Motorhead running through it – hands down my highlight of the three tracks. Lastly, "Seven Serpents" is thrash personified and a great final tack.
Up next is Black Knife who bring along the occult vibe kicking and screaming with first track 'Land of the Dead' following is the 'Gouge the Eyes Out, Steal the Soul' and then my highlight track from the three 'Satanic Commander' the slow foreboding mid-section is a particular favourite.
Following this is Graveripper with 'Mind Filled With Dread' which has a tinge of black metal in there which I'm on board with, strongest track from this part is easily 'Night Frozen Black' which not only has great chorus but has great stand out bass parts. Heaviest track from this selection is final track 'Tomb of the Oppressor'
Last up with two tracks is Unholy Night who start off 'Louder, Angrier' which has more of a nostalgic feel to it which I really enjoyed, wouldn't be out of place on the Deathgasm soundtrack. The final track of this split 'Ancient Rites' couldn't have better placed and honestly, I think it's my highlight track of the entire thing.