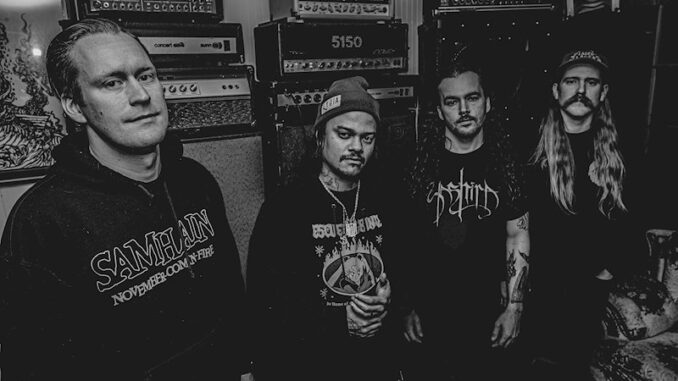 Album Review: Slugcrust - Ecocide
Reviewed by Matthew Williams
Any record that starts with a bit of high pitched, ear bleeding feedback is good in my book, and it intrigues me as to what is about to follow, so I delve into the debut full length release from South Carolina's Slugcrust.
It's an uncompromising opening few tracks from the American four piece, 'Demise Promise', 'Drag Me to Agony' and 'Buzzard Czar' embody their true Southern grind in all its grimy, punishing glory. With two ferocious EP's already under their belts, Slugcrust have produced a 12 track album called 'Ecocide' which seeks to bring political issues to light in a way that galvanises action and activism. Across the tracks, you can feel the rawness of punk mixed with the vicious blast beats from drummer Brett Terrapin, that sting your ears in every song, causing a vicious audible assault, it's beautiful stuff.
The songs are played at a breakneck speed, and are generally kept short in length, the longest track being 'Ecocide' which is 2m 37secs long, so they are sticking to a tried and trusted formula, and develop their songs around the drumming, before the guitars of Derick Caperton and bass of Stacey Williams, are incorporated together and then the vocals from Jesse Cole are layered on top, to make one hell of an intriguing musical mix.
The songs are powerful, and full of political musings, 'Petrochemcial' showcases how America "cultivate the land with franchised labor and pay-to-play medicine" and they guide you further into their southern roots with 'Swamp Mind'" which takes you "inside that bayou shotgun home" but their dark, poetic lyrics, do take a more sinister twist on songs like 'No Heirs/Dead Souls' where "through the cold mud and slushing misery, summon non-entities of imperturtable silence" or on 'Echoless' where they comment "I bear witness to the most destructive, devouring, disintegrating state of every living and non-living thing". Strong powerful words that with resonate with plenty in these modern times.
So if you like your music short, fast and punchy, with dark, political commentary, interwoven with messages about the destruction of environmental structures and ecosystems, caused by the depravity of deliberate human actions, then 'Ecocide' by Slugcrust is definitely one to look out for.