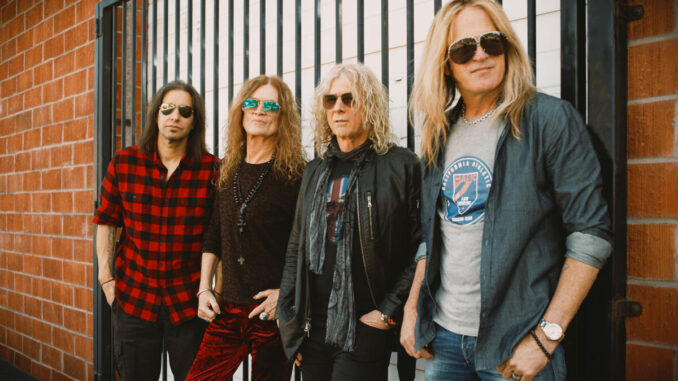 Album Review: The Dead Daisies - Radiance
Reviewed by Paul Hutchings
At times a rock collective, The Dead Daisies did little for me when John Corabi was singing for them. When he departed, the arrival of Glenn Hughes provided the band with a solidity, direction, and perhaps most importantly, one of the best voices in hard rock for over five decades. Hughes is not known as "the voice of rock" for nothing, and his performance in 2020's 'Holy Ground' sparked a renewed interest in a band who I'd walked away from at Steelhouse Festival when they had played as many covers as original songs in their set. Last year, the band, with Tommy Klufetos on drums at the time, proved that they could bring it in the live arena with a fabulous set in Cardiff, The Dead Daisies were very much back on the radar.
Boasting a line-up of hard rock alumni of some quality, it's a big statement to say that the current line-up who perform on 'Radiance' is probably their best. Alongside Hughes, guitarists Doug Aldrich and David Lowry, drummer Brian Tichy has returned. One of the most underrated drummers in the scene, Tichy's return brings an even more solid base to the band, linking in neatly with Hughes' powerful groove-laden bass lines.
At 36 minutes in length, the ten songs are short and snappy. There's plenty of variety whilst still retaining that dynamic that the band have carved out over the past decade. Big riffs, plenty of hooks, lots of melody and perfectly crafted hard rock – that's what you get with this album. Opener 'Face Your Fears' sets out the stall early. It's a big song, Hughes immediately letting the pipes open on the chorus, whilst musically the band lock in tight. It's a thumping piece of work, with a hook that'll have you humming it all day. Hughes is in fine form, whilst the bluesy sway of the track allows Aldrich to unleash a solo that is both rampant and yet sophistically restrained.
'Hypnotise Yourself' sees Hughes in majestic shape, his voice as powerful and soulful as it was all those years ago on those classic Deep Purple albums. There are plenty of opportunities to hear the band flex their musical muscles. 'Shine On' sees Aldrich unleash a fine solo, whilst the title track is as heavy a song as the band have delivered, with a grinding riff that gives way to some traditionally melodic harmonies. It's a slow burner, a contrast to some of the more pacy tracks on the record but it brings the gravitas that this band always demonstrate.
The funk-laden groove of 'Courageous' is addictive, featuring an infectious beat that has been a hallmark of much of Hughes solo work. It's old school in many ways yet provides a contemporary twist that gives it a vibrancy and modern flavour. The old school providing evidence, if it was needed, that their crown isn't ready to be handed over yet.
There's little let up with the tracks rolling on. 'Cascade' is solid, whilst penultimate track 'Not Human' is one of the strongest songs on the release, Hughes in imperious form with his bass lines as compelling as his vocals. It's the sum of the parts of course, and there's no let up from Aldrich, Lowry and Tichy throughout. Even the blues-soaked finale, 'Roll On', with its stripped back approach is well worth listening. There's nothing here that disappoints, and on album number six they prove that once again, they are a force in the world of hard rock which is very hard to stop.