Album Review: Caligula's Horse - Rise Radiant
Reviewed by Paul Hutchings
I've long overlooked Caligula's Horse. That is a criminal offence for which I take full responsibility. The Brisbane outfit's pulsating progressive metal blends colours and emotions in a cascade of ambitious progression. Their last album, 'In Contact', did cross my radar and did in fact make it to these ears; it was certainly a fine release. 'Rise Radiant', album number five, allows me to immerse myself far deeper into the band's critically acclaimed sound and it's a dive that is worth every held breath.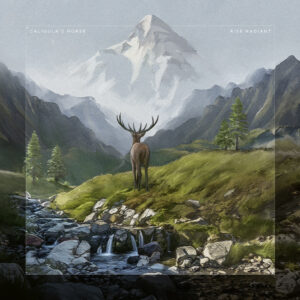 Influences are plentiful when listening to the band, but there is no plagiarism evident. Grasp the diversity and you'll catch glimpses and soundbites from Opeth, King Crimson, Steely Dan and Jeff Buckley, but also chunks of feel good riffing and hooks ala Mastodon, Tesseract and the immersive emotional investment of Anathema. Heading rapidly towards their tenth anniversary, the Australians push the progressive boundaries, huge harmonies never overwhelm but flesh out songs like 'Slow Violence', which has a fiery steel beneath the rich melodic tapestries that the band effortlessly weave.
'Rise Radiant' is an uncompromising exploration of the human experience dressed in vivid musical colour and virtuosic performances. It combines the expansive tracks 'Salt', 'Autumn' and 'The Ascent' with shorter, more instant impact tracks, the mixture the culmination of the band's artistic development. Poetic, anthemic, vicious and uplifting, the themes of regeneration of self-belief ironically delivered at a time of great uncertainty. Jim Grey (vocals) and Sam Vallen (lead guitar) may be the only two remaining original members, but the revised line-up (completed by guitarist Adrian Goleby, drummer Josh Griffin and new bassist Dale Prinsse) has grasped the mettle with both hands to provide 47 minutes of delicious progressive metal. A rallying cry for survival, the contrasts throughout the album are simply beautiful. Delicate, gentle, yet robust and raucous when needed, album number five will surely continue the band's upward trajectory in the progressive world.
'Rise Radiant' gets released on May 22nd via Inside Out Music.