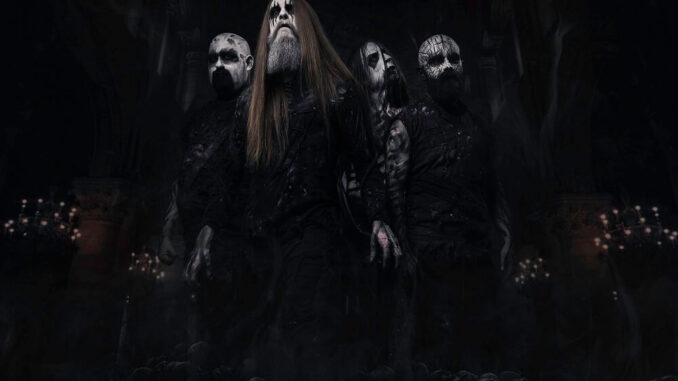 EP Review: Mork - Den Svevende Festning
Reviewed by Richard Oliver
Den Svevende Festning is the new E.P. from Norwegian black metallers Mork and continues the bands tradition of following an album with an E.P. Den Svevende Festning features exclusive studio and live material. The studio material is comprised of unreleased material from the 2021 Katedralen album sessions whilst the live material is drawn from some of Mork's recent live shows.
If you have never heard Mork then they are a modern band who truly encapsulate the true Norwegian black metal sound. They have been accused of being pure Darkthrone worship and whilst that is hard to deny they do it in such brilliant style that any self respecting black metal fan should enjoy what they do. Hell even Fenriz from Darkthrone gives them a glowing endorsement. The title track was always looked upon fondly by Mork mastermind Thomas Eriksen but was left off Katedralen for timing reasons and is a cracking bit of mid paced Norwegian black metal with a riff and rhythm that demands headbanging.
Ormtunge is much the same with a wonderfully filthy Celtic Frost inspired riff and is probably my favourite song on the release. Fodt Til A Herske is a reworking of the song with the same name which was previously only available digitally and sees Mork start in gnarly black metal territory before shifting to a more atmospheric, melodic and melancholic sound towards the songs conclusion. It is epic stuff. The three live songs are all material from the Katedralen album and are fantastic renditions with absolutely fantastic recording quality ensuring these songs sound huge and show what a force to be reckoned with that Mork are on stage.
Den Svevende Festning is a great little stop-gap E.P. but it is really one for the fans. With unreleased material and live recordings this isn't really one for the casual listener though it shows that even with studio material that didn't make the album cut Mork are a tremendous force in black metal right now. If you want an introduction to the band then you are better off listening to one of Mork's five albums but if you are already a fan then this E.P. is a great listen.