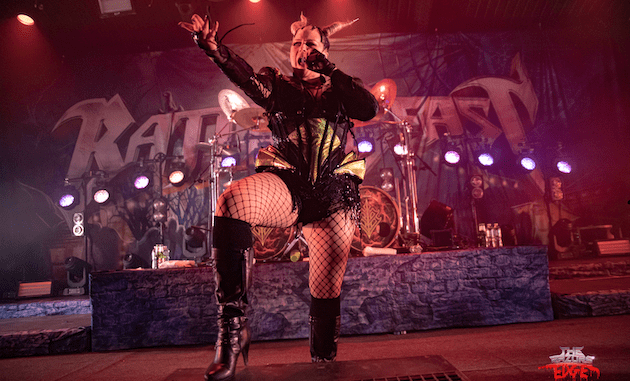 Live Review: Battle Beast - KK's Steel Mill, Wolverhampton
15th September 2022
Support: Future Palace
Words & Photos: Tim Finch
We're back at the Midlands premiere live music venue KK's Steel Mill for a night of power metal madness in the form of Battle Beast's U.K. tour.
Opening the evening are German new comers Future Palace. With two lockdown albums under their belt, tonight's show is only their second on British soil. Despite this, the fans turn out in their droves to catch the act and to see what they have to offer.
The three piece, made up of guitarist Manuel, vocalist Maria and drummer Johannes explode into the stage with 'Dead Inside'. They sound stands different from that of tonight's headliner, but the fans don't seem to mind. Their blend of modern metalcore goes down a treat to a set of fans who may not have heard them before. A set that will stand the band in good stead for the future and a tour that will have won them many admirers.
For tonights headliners, Battle Beast, the journey from playing the cramped Slade Rooms in Wolverhampton many a year ago through a steller performance at Bloodstock shortly there after brings them back to Wolverhampton and the city's premiere rock venue.  Playing under the watchful eye of Judas Priest legend KK Downing will have any band at the top of their game.
Opening with 'Circus of Doom' the band arrive on stage behind a wall of smoke cannons and pyro making the biggest splash they possibly could in the venue. The jam packed arena chants along as they play through 'Straight to the Heart' and 'Familiar Hell'.
Battle Beast are the ultimate in interactive power metal and with the fans singing along, pumping their fists and banging their heads like their lives depended on it the atmosphere is electric. A brief tease of a new song gets the fans excitement levels up before they play 'A Whole New World' from Disney's Aladdin films. The band know how to keep the fans wrapped around their little finger and they are loving it.
Before the encore kicks in the band play the Star Wars theme and lead into the 'Imperial March' before kicking off their final three sings with 'Master of Illusion'. 'Beyond The Burning Skies' closes off the set before another little head nod to the movies and the Top Gun theme plays out as the band leave the stage. What more could any metal fan what?