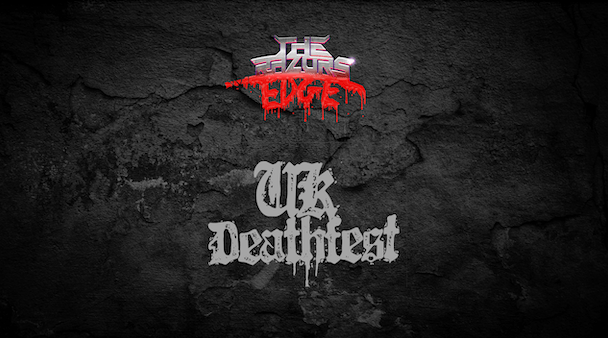 Live Review: UK Deathfest - LondoM
Words: Patrick O'Reilly
As a youngster I would gaze jealously at the posters for Maryland Deathfest with their insanely stacked line ups and dream of going to one of them, so when I heard that the UK was getting a Deathfest I knew I had to go. Two years on from the original booking, having endured two cancellations due to Covid I was more stoked than ever when the time came to travel down to Camden and experience Deathfest for myself.
Friday
The festival was split between three venues, the small Black Heart pub, the slightly larger Underworld and the much bigger Electric Ballroom. First trip of the weekend was downstairs into the Underworld for openers Jig Ai. Opening the festival with a hentai themed pornogrind band is a bold choice but these guys went down a storm. Fusing blasts, breakdowns and guttural vocals they got a sizeable crowd for the opening band moving and moshing. Great fun.
Over to the Ballroom next for American old schooler's Morta Skuld whose mid paced chugs were warmly received and whose talent and ability was obvious for all to see. Cancer were up next and continued the old school theme, I was really surprised with how good they were, having always found them a bit hit and miss on record back in the day they played with supreme confidence and power and sounded great. The songs seemed to have matured over the years and now sounded like death metal classics, Death Shall Rise being particularly anthemic on the day. One of the bands of the festival for me.
A change of pace and tone at the Underworld next with the mighty Squash Bowels bringing a more goregrind approach, fast , brutal and deadly. Vomitory upped the speed even more on the main stage with their hyper fast take on old school death metal. They were a real treat and one of the bands that most people were really buzzing to see. A quick hop back to the underworld to catch Germany's Fleshcrawl a band whose debut album 'Descend into the Absurd' is up there with the true classics of the genre for me. Unfortunately the band have a much different sound nowadays to that classic and favour more melody, speed and Swedish death metal influences which is cool enough but left me longing for that dark, doomy material of old.
More legends of death in Immolation followed, though their set left me wanting more. Over the entire weekend the sound was incredible, all the bands were loud and clear with the exception of Immolation who seemed really quiet to me. This honestly made their set much less enjoyable, especially when combined with a lack of urgency and energy I think due to opening with two songs from the new album which aren't overly aggressive or energetic songs. Things picked up once they played 'Into Everlasting Fire' from debut album 'Dawn of Possession' but overall I felt the whole performance was a little bit flat.
I took a break for a while before heading to the Black Heart for the last couple of bands, first up in there was Cryptic Shift. Another of the best bands of the weekend for me these guys are absolute jewels in the crown of British death metal and currently are the best in world for me in atmospheric, technical space theme. Intricate and atmospheric, like Pink Floyd playing Spheres-era Pestilence they absolutely tore the small room apart and sounded amazing. Every band member was on point with the bass standing out as particularly epic on the night, an absolutely triumphant performance and one that left many people wondering why they were not appearing on one of the bigger stages.
Last band of the night was French/Belgian goregrinders Putrid Offal who entertained with fast, aggressive grinding death metal. They looked like they were having a blast and the crowd clearly were also. Their set whizzed by as they entertained and closed the night perfectly.
Saturday
First band up for me on the Saturday was old school Swedish band Interment who blasted through their set of bangers with that classic buzzsaw guitar tone in full effect. Whilst not having the hooks that Entombed or Dismember have they were very good at what they do and got heads banging everywhere.
Another performance of the weekend greeted me in the underworld when Dutch slammers Korpse took the stage. Easily the heaviest band of the weekend they physically shook the Underworld with devastatingly heavy breakdowns and blast beats galore. They had the Underworld's biggest pit of the weekend and even had a steady flow of stage divers by the end of their set. Really impressive stuff.
Old School delights again in the Ballroom for Massacre. A good mixture of old and new tracks left fands delirious and in frontman Kam Lee they have a bona fide legend of Death Metal. Classics from the 'From Beyond' album went down a treat and a cover of one of Kam's teenage favourites 'Blitzkrieg Bop' by the Ramones even went down well although it was spiced up with a death metal twist. Massacre showed why they are legends of the genre still and probably always will be.
Another longer break as my body couldn't take it anymore meant I was well rested for the arrival of Nuclear Assault on the main stage and what a crazy set it was!! With many old thrash heads seeming to join the pit they had the crowd eating out of the palms of their hands reeling off hit after hit from seminal thrash classics 'Game Over' and 'Handle with Care'. Some great banter from legends John Connelly and Dan Lilker felt like you were listening to old friends and with the pit erupting into massive circle pits and moshing everywhere it really felt like the good old days of thrash again.
I decided to stay at the Ballroom to secure a good spot for headliners Autopsy, who judging by the crazed queues at their merch stand must have been the most anticipated band of the whole weekend. The crowd were at fever pitch when the band finally took the stage and from then on it was pure chaos in the Ballroom as fans followed drummer and vocalist Chris Reifert's request to 'act like maniacal fiends'. A great mixture of tunes weighted in particular towards the first two albums sent fans into ecstasy, 'Ridden with Disease' being a highlight with its chugging verse section crushing and ripping. An insane and awesome way to end the second day of the festival.
Sunday
Black metaller's Avlslut were the first act I saw on Sunday and their blasting traditional style black metal was a great way to start the day. Continuing the black metal theme the next band I saw were one I was especially excited to see and that was Craft. I find this band very interesting as they mix lots of sounds and influences into their style, I find elements of noise music and even 80s new wave when I listen to them which I really enjoy. They played with swagger and power and blew me away, definitely another of my bands of the weekend.
Benediction were up net for me and their set very much reminded me of Massacre's the day before. With enigmatic frontman Dave Ingram they have a star and someone who just seemed over the moon to be playing this festival, this enthusiasm and love coming across from all band members in their performance. Newer songs dominated the setlist but still went down really well but fans really appreciated old classics from the 'Transcend the Rubicon' album.
The Underworld was rocking as Birdflesh started their set, their infectious death/grind whipping the crowd into a frenzy. We were treated to classics like 'Pissboy' and 'Head of a skull' and as their set finished and people started milling out their was a real buzz in the air as people really enjoyed themselves.
I took a long rest again to prepare for headliner's Triumph of Death who promised to play some classics from Hellhammer and they did not disappoint. Tom G Warrior was in imperious form, masterfully throwing out riff after riff and he seemed emotional as he told of his visits to London as a teen to purchase NWOBHM records. An earth shatteringly version of the track 'Triumph of Death' closed the night and the weekend for me and left me even surer of the notion that Tom is up there with the Lemmy's, Ozzy's and Dio's of this world. Triumph of Death, the name of the band and the last song but could also be the slogan for this festival. A true triumph of Death.