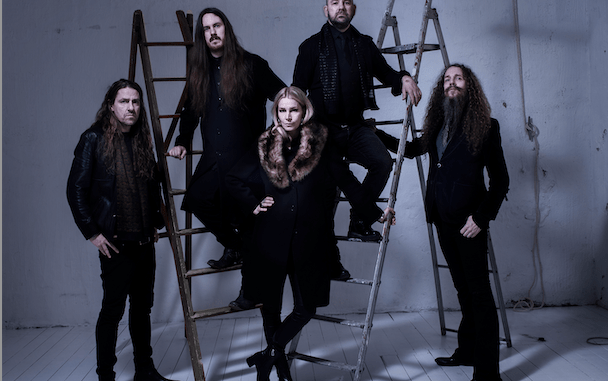 Album Review: Avatarium – Death, Where Is Your Sting
Reviewed by Richard Oliver
Avatarium turned heads (and especially this reviewer's head) in 2013 with the release of their debut album. It was a hugely interesting yet also wholly familiar but exceedingly good take on doom metal formed by Candlemass bassist Leif Edling as well as guitarist Marcus Jidell and singer Jennie-Ann Smith. Now we come to album number five from the band titled Death, Where Is Your Sting and it is quite a pivotal album for the band as it is their first without founding member Leif Edling who was left the band due to ill health reasons. Without one of the driving forces of the band can Avatarium keep up the momentum they have built with their previous albums? The album is a resounding yes.
Death, Where Is Your Sting sees Avatarium continue on their journey of psych-laden bluesy doom metal but this time round there are a few more elements thrown into the mix with a far darker and more progressive feel on the album. The album opens in ominous style with the brooding A Love Like Ours which opens with violin and acoustic guitars and slowly builds with intensity as the song progresses whilst still retaining its dark broody feel. It's a different way to open an Avatarium album and I'm all for it. Things slip into familiar territory for Stockholm with its doom-laden riff but it switches between doomy riffing and more progressive and atmospheric acoustic led parts. The atmosphere on this song is wonderful and it is a definite highlight of the album.
The title track is a good-paced hard rock song with an absolute earworm of a chorus that will bore itself into your brain though it also has that darker edge to it that seems to be a recurring theme on the album. Psalm For The Living is a curveball with a very stripped back, atmospheric and heartfelt sound to it and is very different to anything that Avatarium have done before. On the second half of the album we get just as much variation with the traditional doom of God Is Silent which has an absolutely cracking main riff to it whilst Mother Can You Hear Me Now is a more dark and atmospheric rocker. Nocturne is one of the heaviest songs the band have ever done and is the most metal song on the album before the album finishes with another slight curveball in the form of an instrumental Transcendent which sees Avatarium embrace the prog.
Avatarium are a band that have progressed and grown with each album and despite the loss of Leif Edling they continue this growth and expansion of their sound on Death, Where Is Your Sting. The variation of sounds and themes on the album makes it a hugely interesting and entertaining listen and shows that the band remains in very capable hands. Avatarium continue to prove themselves to be one of the most surprising and must-hear bands in the doom genre right now.