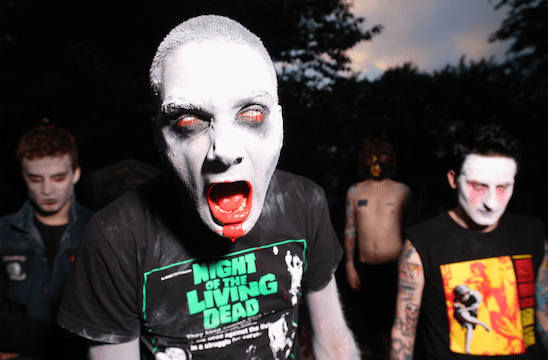 Album Review: Send More Paramedics - The Final Feast
Reviewed by Dan Barnes
For nearly fifteen years they've lain mostly dormant. Only the occasional stirrings to suggest that some form of life still resided in those cold, decaying bodies. But a decade and a half since their last contagion, Leeds' favourite undead quartet return with a new (s)platter of grotesque thrashing crossover in the form of The Final Feast. Nine tracks composed in-crypt and ready to stagger out of the fug to a digital streaming platform near you.
Taking their name and overall aesthetic from the Zombie genre in general and the 1985 classic Return of the Living Dead in particular, Send More Paramedics always were an absolute blast when they played live, finding homes on stages with bands as diverse as Avenged Sevenfold, The Offspring and Exodus to name but a few and on festivals such as Download, Reading/ Leeds and Damnation back in the mid-noughties. So, it was a real shame when the band decided to return to their resting place and remain quiet, entombed for all eternity.
But, like Church the Cat meowed, you can't keep a good 'un down, and 2021 sees the reanimation of the fearsome foursome just in time for Halloween.
Send More Paramedics always were far more accomplished than their undead personas would have you believe, and their downtime has stoked up the creative juices, allowing the band to produce some of their best music yet. Still evident is the thrashing chops and crossover sensibility, mixed with a hearty spoonful of hardcore aggression; yet never far from the scene is the sense of fun inherent in the horror genre upon which the whole concept is based.
Songs like Mortify, Splatterpunk and Malfacteur revel in being frenetically paced and stompingly good fun, based around simple, but hideously infectious riffs and featuring some of the most frightening ripped-throat vocals this side of the Land of the Dead. Totenkopf begins with some spastic rhythms, as though having been interred for an age, but resorts to a catchy chorus and not a little swing once free of its coffin and ready to mingle.
It feels as though The Final Feast is custom-made for the live environment as there is nothing here that will not make you want to get into that pit and cause maximum carnage. She Lives hits heavily from the get-go, ferociously pounding with a tasty little breakdown that will guarantee body-parts flying through the air.
I could be listening and hearing something that isn't there, but I get the feeling the tracks Human Capital and Word is the Virus are maybe hiding messages about the current state of the world. The concept of the Zombie/ undead being something that Jacques Derrida used in his philosophy and the idea of the word as a virus preoccupied much of the writing of William Burroughs. Even if this is the case, neither are musically out of place on the album and both demand pit respect.
As The Final Feast comes to a close, Unfree takes a turn from the intense thrashing to deliver an altogether more accomplished piece, slower and with a cleaner, sharper guitar tone demonstrating Send More Paramedics are more than merely a gimmick. Climaxing with Hibakusha we can only hope that the seeds have been sown for a sequel.
Rumours abound that the band intend to perform 4 'one-off' shows at the end of October but, with a bit of luck, Send More Paramedics will extend this or maybe do some festival shows next year! The Final Feast clearly shows there's plenty of life in this cadaver yet.