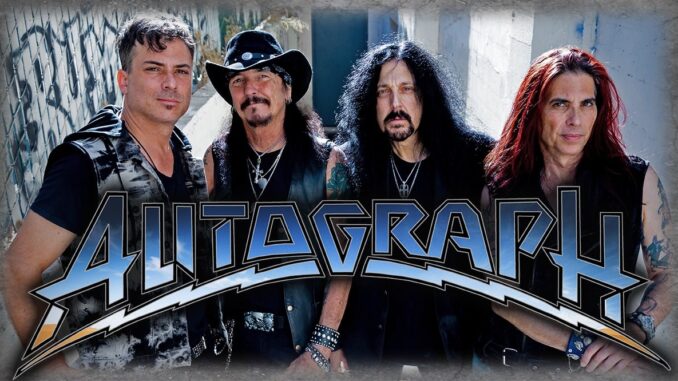 Album Review: Autograph - Beyond
Reviewed by Paul Hutchings
Hands up whose knowledge of Autograph starts and ends with 'Turn Up the Radio'? Yep, you're probably not alone. And yet, the US melodic hard rockers who disbanded in 1989 before reforming over two decades later, remain one of those bands whose output is well worth investing a little time in.
Formed in Pasadena in 1983, Autograph are located firmly in the one hit wonder camp. And yet, their albums Sign in Please (1984), That's the Stuff and Loud and Clear are all quality melodic rock releases.
Scroll forward to January 2022 and Autograph sign to Frontiers Music in a move that seems to make sense for all parties. Frontiers being a huge promoter of the genre after all. The band's line up at the time comprises vocalist Simon Daniels, guitarist Jimi Bell, bassist Randy Rand, and drummer Marc Wieland. Rand is the last connection to the original line up. Sadly, Rand passes away on April 26th, but has shared his wish for 'Beyond' to be released even if something was to happen to him.
So, it's a bittersweet moment that Frontiers first release is the final album that Rand made with Autograph. What's tragic is that this album is simply superb from start to finish. Polished, perfectly performed and with a heavier edge than might be expected, it's a fitting epitaph to Rand. It's certainly got all the hallmarks of melody, harmonies, and lushness that one would associate with Autograph, but there's a fire that burns deep.
The album opens with an absolute anthem, 'This Ain't the Place I wanna Be'. It powers along with Daniels in fine form, the band locked in tight and Bell throwing out solos for fun. It's an up tempo start that really gets the blood flowing. There's everything I want in a melodic rock album. Enough edge to push it towards the harder rock sound, superb musicianship, and a feel-good vibe. It's all here.
There's little let up for the opening three tracks with 'Everything' another pulsating rocker. Sometimes you just want it all to come together with ease and it sounds like this is exactly what happened. Even when Autograph drop to the sleazier style on 'Gotta Getcha' it's still got guts and a swagger that oozes class.
What's impressive about 'Beyond' is the heaviness that the band generate. Always known for lighter, pop style songs, this is an album that genuinely rocks. As Rand put it, "We're heavier than before. At the same time, the melodic vocals and catchy hooks are still an integral part of our sound".
Listening to 'Beyond', one is always half expecting the ballad to drop. Seven tracks in and 'Beautiful Disaster' arrives. Nope, it's nothing like a ballad and had me singing along on the second play. Who knew! In fact, there's no ballad tucked away here at all, merely 12 tracks of high-octane rock 'n' roll. It may not be groundbreaking, it's not extreme and it doesn't challenge the synapses in the way progressive outfits can, but it makes you feel bloody great and that counts for a lot. I was left with a huge smile on my face after one listen. As an album to honour the band's last remaining original member, 'Beyond' is first class. Wherever he is, Randy Rand should be smiling, because this is simply magnificent.