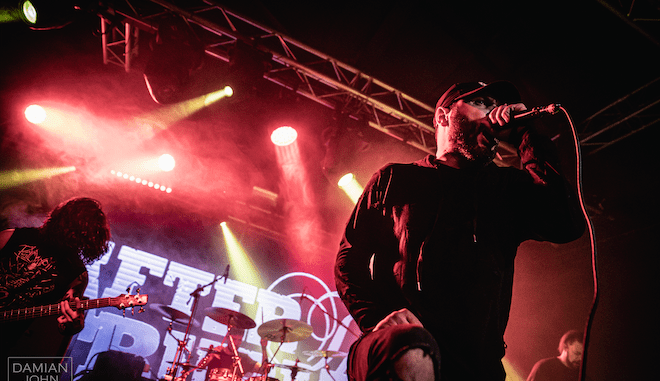 Live Review: Impericon – Never Say Die Tour – The Mill, Birmingham
9th November 2022
Featuring: Boundaries, Cabal, Invent Animate, Spite, Currents, Suicide Silence, After The Burial
Words: Matt Noble
Photos: Damian John
Another instalment of the Impericon Never Say Die tour has hit UK shores, a renowned showcase that champions extreme bands for anyone who's into blastbeats, gutturals and breakdowns. With seven bands on the bill and an early start of just past 5:15pm (too early for this reviewer during the middle of the week!) I was unfortunate to miss Boundaries, Cabal and Invent Animate this time around - though a lot of earlygoers I speak to are particularly buzzed after Caval's performance. There is no shortage of brutality, and a chance for many to see a few lesser-known bands that don't often make their way to UK shores - as well as the massive pull of co-headliners After the Burial and Suicide Silence.
In some ways, after so many years in the industry, success may be considered survival - a poignant sentiment for these bands, as both acts lost founding members in the 2010s. Indeed, the tour makes its way to The Mill in Birmingham just past the tenth anniversary of the passing of OG Suicide Silence screamer Mitch Lucker (After the Burial rhythm guitarist Justin Lowe was found dead in the summer of 2015, who the band ultimately did not replace). Tonight shows both reaping what they have since sown, with their perseverance and persistence allowing them to take top spots tonight and demonstrate themselves as leaders of a musical movement.
In the middle of the bill is California's Spite - and what a way for me to start my night. A supremely groovy, in-your-face death metal/hardcore act, the crowd is engaged from start to end, whether Spite utilise frantic, thrashy moments to ignite to pits or bouncy, fist-pumping sections for everyone to jump up and down to. It's their first time in the UK, but they receive a warm, receptive reaction from an audience where a surprising amount of those present know them already and can join in with their choruses. Darius is a great frontman, encouraging everyone to get up and move with him. He commands the audience with excellent stage presence, complete with headbangs and whipping his long hair around. The band sound huge, with a punchy guitar tone and a bass you can feel in your fut, and the subtle use of atmospherics in the backing track makes the breakdowns hit really hard. Set highlights include the insanely bouncy groove of the anthemic 'IED' and the title track of 'Dedication to Flesh', their new album to which tonight is in support of. A really nice surprise for me and definitely a band I'll stay up to date with going ahead.
Connecticut outfit Currents are a little different, with more in the way of ambience, big choruses and djenty grooves than Spite. With bags of energy and a bass player whipping his bass around as he plays, the atmosphere in the room is still electrifying, but it seems that the enthusiasm for the band is more centralised towards the Currents faithful, whereas Spite seem to win over more neutrals or those previously uninitiated. Regardless, it's an entertaining set, and they mix up the groovy ambience with a few really frenetic death metal-inspired moments with blastbeats and vocal savagery. Frontman Brian gets everyone's hands in the air - and I mean, literally everyone - for a mellow, melodic atmospheric intro, where he shows off his range with a stellar baritone vocal performance. They sound very much polished and professional, with heavy use of their backing track to fill out the sonic space. Based on this, and their sea of dedicated fans, you could expect them to come back for a headline run next time.
For many, Suicide Silence are tonight's main attraction, and the room is pretty much bursting by the time they hit the stage. And it's not to say that the other bands lacked tightness, but tonight they school their opening acts in how to deliver a show, and the sense of professionalism seems to really go up a notch straight away. The crowd follows suit and sings along to the bouncy 'Wake Up', sticks up middle fingers to the fun, nu metal-tinged 'F*ck Everything' and jumps up and down for 'Love Me To Death'. They are just on another level. Eddie Hermida chats to the crowd a lot between songs, with a sense of intimacy that makes it feel like a conversation directly with ourselves - and also a wonderfully dry sense of wit, encouraging the impressionable, drunk fans near the front and centre that 'your grandmother wants to see you do a wall of death'. The ensuing wall of death (over classic SS anthem 'Disengage') almost goes as far back to the sound desk. 
Their new material also goes down a storm (firmly in the realm of heavy again after their flirtations with Korn-esque alt-metal a few years ago), with breakdowns that hit hard and a few spine-tingling brutal moments that up the intensity in the pits even further. Tonight, Ernie Iniguez's drumming is particularly worthy of commendation, especially as a new recruit to the band as of this year, and Eddie puts in a varied vocal performance that shows off his full unclean range. He shows appreciation for the opportunity to perform for us all before the band launch into 'You Only Live Once', which completely sets the room on fire, full of crowd surfers and pretty much the entire room bouncing up and down. A frantic 'No Pity For a Coward' closes the set and Suicide Silence leave the stage, hailed as kings of deathcore. They're still going, and are stronger than ever in 2022.
It would be unfortunate for anyone to have to follow that, but After the Burial are certainly up to the challenge tonight. Starting off with 'In Flux', the circle pit gets going straight away as the distorted guitars sound through the PA system - and then all goes dead. Unruffled, frontman Anthony handles it like a pro, laughing off the silence and chatting to the crowd. He's a great storyteller and a natural on the mic, considering that it's unlikely that much of what he talks about here is especially prepared. After an anecdote about the strength of English weed, the band dust themselves off, hit restart - and stop again after ten seconds. It's not their fault. 
Third time's the charm. Twelve minutes after their set was due to start, they cut their losses from 'In Flux' and open instead with an intense rendition of 'Collapse', and the masses appreciatively give it a bit more than they might have done without the technical hitches. The crowd is a little thinner than for Suicide Silence, but those that have stuck around really give it their all and show their appreciation for After the Burial. 'Behold The Crown' gets everyone jumping and the intro to 'Lost in the Static' induces a massive crowd reaction. ATB are a little more technical than the other bands, and more progressive in the way they write breakdowns. The downtuned-to-oblivion 'Mire' makes use of some really interesting polyrhythms, without boring the crowd or coming across as pretentious - in contrast, it's a true crowdstarter and one of the highlights of their whole set. But they're not just a band of breakdowns, grooves and extended range guitars, as the emotionally heavy 'Quicksand', in tribute to a victim of suicide, gives their performance a real depth tonight. The atmospheric 'A Wolf Amongst Ravens' ends the set, and as the ambient outro plays, Anthony gazes pensively over everyone, taking in the last moments before leaving. 'We'll see you next time…'
If there's anything to take, though After the Burial's name may not quite carry the same weight as Suicide Silence, they are no less professional or deserving of their slot. Oh, and in taking an interview from the crowd during their technical difficulties at the start, Anthony reveals that they're recording a new album in January. Tidy.