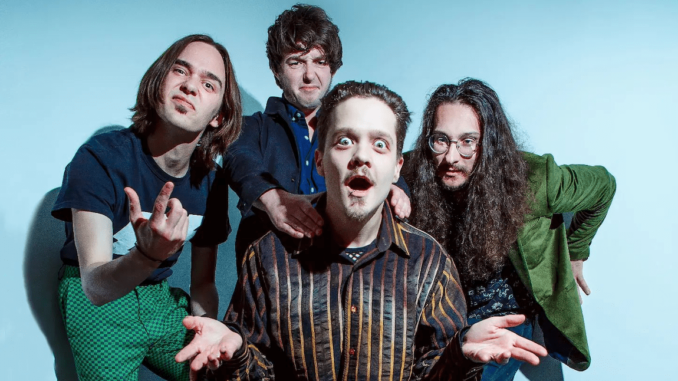 Album Review: Mother Vulture - Mother Knows Best
Reviewed by Paul Hutchings
It's been a long time coming but it's finally time to have Mother Vulture in your living room. Yes, 'Mother Knows Best' sees the Southwest band, who have been tearing up the UK rock scene for the past few years bring their anarchic style of rock and punk fusion to vinyl and CD for the first time with 12 tracks of chaos.
If you've witnessed Mother Vulture live, and if you haven't why not, then the biggest worry with this release is whether the band could capture the live sound in the studio. After all, it's one thing to be leaping from amplifiers and across barriers, but can you transfer that raucous rawness across?
The good news is that Mother Vulture have gone and done exactly what you'd have hoped for. They literally explode out of the speakers with 'Fame or Shame' and never look back. Matt West's drums kick in before the riff of Brodie Maguire takes control to allow vocalist Georgi Valentine to bring his unique vocal style to the fore. It's up tempo, infectious and just the precursor to 36 minutes of audio anarchy.
Most if not all these tracks have been doing the rounds for ages, and if you are familiar with the band then this is like welcoming old friends into your home. Old friends who may be a little unpredictable in behaviour perhaps, because tracks like 'Monster Crunch' lurch around like a Red Bull powered drunk.
It's good to have the opportunity to hear the likes of 'Rabbit Hole' and 'Honey', singles that have been in the digital domain for some time alongside the thumping 'Big Bad' (with its slight Foo Fighters hook) and other less well-known songs. You also get the opportunity to appreciate a) the musicianship on display and b) the clever lyrics that are often lost in the carnage that wraps around the band at their infamous live shows.
Inevitably you are drawn to the more familiar tracks. Cue the anarchy that 'Mr Jones' always throws up, with its insane tempo and beat transporting you back to those sweaty, insane times when you first saw Mother Vulture and just stood there with your mouth wide open in disbelief. The savage riff of 'Vile Breed' sears through the brain, the roars of Valentine terrifying and enticing in equal measure. West and bassist Chris Simpson are locked in tight, united in rhythm.
And just when you think that the relentless bursts of intensity will never end, they throw in the melancholic 'Not Yet', which crawls with malevolence, darker, slower, but also heavier with a fuzzy riff that many a stoner outfit would kill to create. By the time you reach final track 'Homemaker', with its crashing riff and driving pace, the only thing on your mind is to hit repeat and start the journey once more.
With an album launch tour coming very soon, Mother Vulture continue to progress towards world domination. It won't be long before those opening festival slots, and small club shows are a distant memory. For now, just enjoy the band in their finest hour so far.