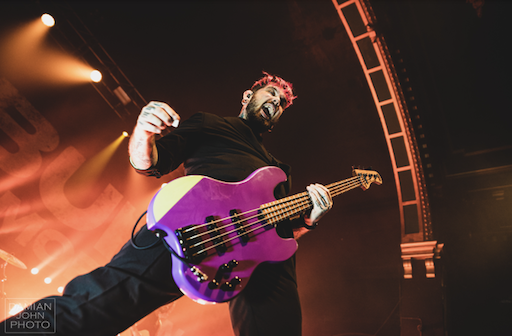 Live Review: Bury Tomorrow - O2 Institute, Birmingham
29th October 2022
Support: August Burns Red, Novelists
Words & Photos: Damian John
It's a Saturday night in the UK'S second city and we've all got to the O2 Institute nice and early to grab a pint and settle in for some quality metalcore. It should be a special one too as it's the second sellout show in a row for Bury Tomorrow who are joined by August Burns Red and Novelists.
'Did somebody say guitar battle?'
Proudly taking the place of Miss May I who were originally scheduled for this show, Novelists take the stage and immediately jump onto their risers, stage adorned by a massive 'Novelists' backlight; there's no way I can forget who these guys are. The venue has well and truly packed out with multiple pits opening throughout their set. Novelists aren't pure metal, they take the time to slow down and give the crowd room to breathe with beautiful clean passages. Kubrick's vocals are on point and is often heard hyping up the crowd splitting the venue in two prompting more movement, massive respect also for filling in for full time vocalist Tobi who unfortunately couldn't make the tour. Their set goes by all too fast but it's fair to say I'll be back for more.
Walking out and exploding into an abridged version of Chop Suey August Burns Red aren't fucking about. I never knew System of a Down could sound so heavy. Jake Luhrs vocals are for lack of a better term; brutal, as is his stage presence which dominates the entire venue. Arms thrust into the air while delivering the filthiest of lows, CO2 cannons fire across the front of the stage engulfing the band in a thick fog with nothing but pulsating lights breaking through.  Every track is an onslaught to the senses, I can't help but nod along fighting temptations to jump in the pit dodging punches but I have a camera to care for... That and the back of a sixty year old. August Burns Red end their set with the fan favourite White Washed, blinding us all with strobes from behind the drum kit and more CO2 cannons, they've been an absolute powerhouse this evening.
'A different level of production tonight' says vocalist Daniel Winter-Bates while wearing a light up pumpkin headband from a person on the front row. If there's one thing I can say about Bury Tomorrow it's that they respect their upbringing as a band, speaking fondly of their time performing in the Midlands over the years at our numerous clubs and dive bars. They also deeply care for their fanbase sharing the love for their LGBT fans in the room. History and ethics aside, Bury Tomorrow show us all what being a pro live band is all about. Daniel dominates the stage with ease as do guitarists Kristan Dawson and Ed Hartwell. We also get our first round of crowd surfers making their way to the barrier as Black Flame kicks off, surely not our last. Bury Tomorrow give us a heartfelt hour of prime metalcore effortlessly switching between insanely heavy passages to genuine shows of affection; minus the MGK hate.
'Does anyone have a Russian leak of the new album?' Daniel asks after announcing the name of their upcoming release 'The Seventh Sun'. New vocalist & keys player Tom Prendergast shines during the bands closer 'Death' with his clean vocals soaring throughout the venue. The addition of keys has also had a profound effect on the band's sound as a whole, creating a more atmospheric element while also adding a fresh spin to older classics. Overall Bury Tomorrow have once again put on a fierce show, as they consistently do, with a solid arsenal of tracks and a blistering live show that is guaranteed to have everyone grinning from ear to ear.