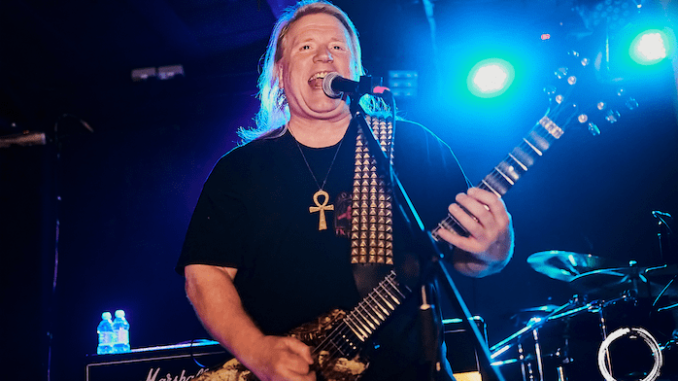 Live Review: Nile - Rebellion, Manchester
7th November 2022
Support: Krisiun, In Element, Decrepid
Words & Photos: Rich Price
London OSDM act Decrepid open up proceedings, cramped right towards the front of the stage, such is the size of George Kolias's shrouded monster of a drum kit that all of the other bands would be on tip toes at the front of Rebellions stage which I can't help but feel sapped a bit of all the supports energy. With plenty of Low end chugs to their sound, they proved very popular with the assembled throng of Death Metal fanatics.
The next act, In Element, were somewhat different! The band who were definitely citizens of the earth and no particular nation ("Countries are Bullshit") were, to say the least, an interesting sight. They won me over with their electronic-influenced edge. This band was definitely cramped by the lack of stage real estate. After an interesting non-cover of Phil Collins 'In The Air Tonight' which was barely but still recognisable. The band spent the last song running around the audience, finally free of the stage and making the most of the legroom. A bit different, and occasionally rough around the edges, but I think a definite discovery of tonight.
By the time Krisiun take to the stage, the venue is filling out and getting much more packed. Krisiun are absolutely on fire, heavy as hell and imposing to match. They absolutely smashed it with a tight precise performance, ripping Rebellion a new arse tonight and no mistake! Pits galore, this was brutal and intense. Leaving us with the wise words of "smoke weed and watch Nile" they left the stage in absolute triumph: although it smelled like half the crowd was way ahead of them on the weed front.
Unfortunately Nile were, through no fault of their own, to be somewhat anti-climactic. Multiple power issues with the venue would prove to sap their momentum at almost every turn. When they did play songs, they were as fierce as anything, George Kollias obfuscated behind the monster kit was absolutely beating the hell out of it. All the songs were met with huge cheers and chants, but between songs however there were long pauses, punctuated with them describing it as fighting the venue and that they would win the fight. It was obvious they were struggling, and the crowd was going all out to support them.
Four songs in and they're having to change around the set list to keep it going, the tech's working overtime, and the crowd are encouraging them to keep the momentum going. Halfway into the set and they start to break into their stride, but it was too late, by the last song we had a glimpse of the gig it should have been. An amazing band and indeed crowd, but tonight was not their night.