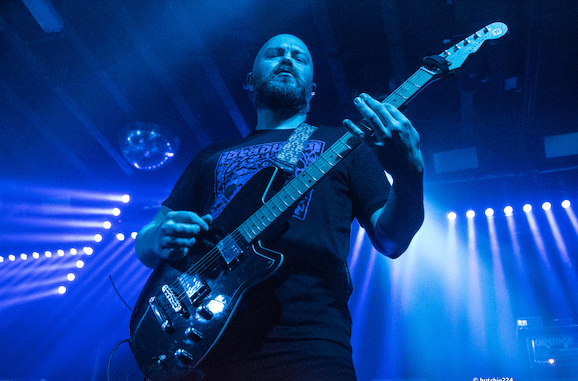 Live Review: Pallbearer / Elder - The Fleece, Bristol
3rd November 2022
Support: Irist
Words: Richard Oliver
Photos: Paul Hutchings
Many tours have been postponed thanks to the pandemic but it seems many of these postponed tours are hitting UK shores in the coming weeks. One such tour that has finally been able to go ahead is the hefty package of co-headliners Elder and Pallbearer and support act Irist. Many had hung on to their tickets from the original date ensuring that the show taking place at Bristol institution The Fleece was a sold out and packed out event.
With two headline length sets ahead there was no local support slot and it was down to Irist to open the show. Hailing from Atlanta this was Irist's first ever European tour and it was my first ever exposure to the band. There was a real mix to their sound drawing in influences from sludge metal, progressive metal, hardcore and post-metal with the songs drawing in elements of all these different sounds. There were dense riffs, moments of progressive calm, atmospheric post-metal segments and breaks of hardcore aggression. It meant that a lot was packed into their short set which absolutely flew by.
Songs were taken from the bands 2020 album Order Of The Mind as well as this years E.P. Gloria with songs such as Insurrection, Dead Prayers and stunning set closer Surging Ablaze earning the band some new fans. Frontman Rodrigo Carvalho was quietly spoken when addressing the crowd between songs but this was most definitely not the case when delivering ferocious roars as well as some subtle clean vocals. The rest of the band put in an intense performance with guitarists Adam Mitchell and Pablo Davila dishing out the riffs, bassist Bruno Segovira delivering the low end (including the slickest change of a broken string I think I've ever witnessed) and drummer Jason Belisha impressing with an intense and intricate performance. This was a damn good first impression of a band who I will definitely be checking out in future.
Landing the first of the co-headlining slots were Arkansas doom metallers Pallbearer. From the band's soundcheck it was obvious this was going to be loud and loud it certainly was indeed. Pallbearer are a band that in the space of a single song can break your heart and smash your skull. A doom band that very much wears their heart on their sleeve with very emotionally charged and heartfelt music which is also equally heavy as hell and devastatingly intense. Those moments in the songs where a quiet section dropped into a heavy section sounded absolutely incredible being blisteringly loud and mixed astonishingly well meaning these songs had the power that they deserve which can sometimes be lacking in the studio recorded versions.
Frontman Brett Campbell stated on stage they were going to play some different shit tonight and a good chunk of the set was taken from latest album Forgotten Days such as the crushing title track and the emotional Silver Wings but there were old favourites in the set such as opener Foreigner, I Saw The End and Given To The Grave. The band were a well oiled machine playing with precision but with heart. Brett Campbell was on main vocal duties and well as some slick guitar playing and he was backed up vocally by bassist Joseph D. Rowland and guitarist Devin Holt. Drummer Mark Lierly was a force to be reckoned with, battering his kit into oblivion and you could feel every hit and kick of the drums as well as hear them. Pallbearer are a band that must be seen live to fully appreciate as the music really transcends the album recordings when played live with the levels of intensity that they were performed at this gig.
The unenviable task of following that Pallbearer set fell to fellow co-headliner Elder. Elder originally hail from Massachusetts and are far more in the stoner/doom style with plenty of psychedelic leanings. They are a band that I have heard odd songs by but never spent the time to listen to them fully. Elder played a six song set though these were six very long songs and the lack of variety throughout meant that the set started to drag by the halfway mark.
Pallbearer and Elder must be having a competition on who can be the loudest this tour and whilst Pallbearer were damn loud, Elder were insanely loud to the point where I had to relocate to the back of the venue as the songs were so loud they sounded muddy and distorted and any nuances in the songs such as the psychedelic parts were lost in a wall of noise. The set was taken from a mix of the bands discography with set opener Compendium and set closer Sanctuary getting the biggest cheers from the crowd. Despite my issues with the sound the band put in a very solid performance with a cornucopia of riffs from guitarists Nick DiSalvo and Mike Risberg whilst the bass from Jack Donovan and drums from Georg Edert were like thunder. Whilst I didn't dislike the set I just found it a bit underwhelming after the monster of a set from Pallbearer. Maybe if the bands had swapped around I would be reviewing this differently but the fans of the band (of which there were many in the audience) lapped up every second.
Photo credits: Paul Hutchings