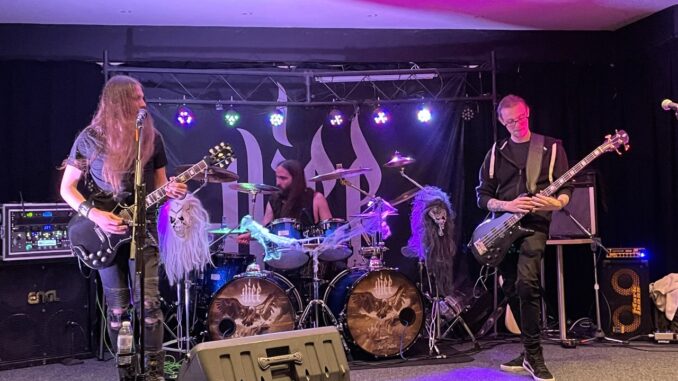 Live Review: Vice - Accrington
29th October 2022
Words & Photos: Neil Bolton
There is no doubt many Halloween parties are going on all over the world this evening, but one in the small town of Accrington is being hosted by the local motor cycle club and has Northern metal band Vice as the main attraction.
As the band stroll onto stage for the first of their two sets, at this charity event we notice there is the a change in bass player. It is not long before we get an explanation for this, Aiden Lord (who is attending) has just recently become a father so the talents of Ryk Swillo (ex- Babylon Fire) are being utilised tonight.
Vice's music is a perfect blend of N.W.O.B.H.M. and thrash, all expertly performed by precise and entertaining musicians. The first set contains original tunes taken from their albums 'The First Chapter' and the recent 'Fallen'.
Guitarist/vocalist Tom Atkinson is a bit of a star on his axe and has no issue with a screaming solo that entertains both bikers and rockers alike. Swillo never ceases to bounce around while the grin on drummer Conner Summers' face never wains. Their infectious music has heads bobbing and horns raised.
This set is topped off with the track 'Greed' which once again displays the musical proficiency of this band. In fact the latter section of this song calls for the stand-in bass player to call up the resting new father to take his bass and he clearly enjoys finishing this track. The sound for tonight's show is expertly handled by Chris Appleton (Absolva/Blaze Bailey) who it also turns out provided the PA.
After a raffle draw (well this is a charity event) Vice return once more for a set of covers and are now joined by Appleton, sharing vocal and guitar duties.
This is an entertaining covers set compromising of AC/DC, Metallica and Iron Maiden songs, amongst others.  All skilfully rendered to a now dancing audience. A masterful version of 'Heaven and Hell' causes people, well me, to bust a lung in singing along. 'Breaking the Law' tops off this party and a cool night of metal and money raising was enjoyed by all, including the band it seems.
Photo credits: Neil Bolton