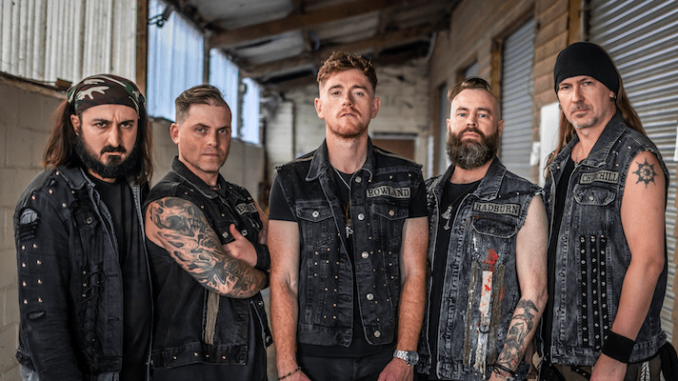 Track By Track: Beneath the Embers - Condemned
Clint Bredin (lead guitar) of Beneath the Embers exclusively talks us through the band's stunning new album, Condemned, which is out now!
Buy the album here and check out his breakdown of the album below!
1. Contact
Our intro track was written and produced by the talented Josh Fielden of Sprogglet Studios and really kick starts the album the way we wanted. The theme to fight on and overcome flows through the entire album and the image of a soldier at war is the metaphor we wanted to use to fit the theme and make that link between fighting a war physically but also in your head mentally.
2. Set Me Free
Set me free is about a time around about 4 years where my closest mate was going through a really tough period and break up. During that time, I was also going through something similar and we talked each other out of the pits we had dug ourselves deeply in and realised things could be a lot worse. Musically the song has one of our more thrasher riffs and we wanted the first song on the album to be a fast driven and 'slap you in the face' track with a chorus people could relate to lyrically.
3. Battleborn
This song is about being an 'Immortal war machine' on the battlefield and feeling like nothing can stop me. A champion of war and feared by everyone. Anyone who thinks they can beat you are wrong and find out the hard way. I wanted the listeners to feel like they are the most powerful being on the planet and feel like they can overcome any situation, whether that's an extra rep at the gym or a presentation at work or building up the confidence to chat to their crush or anything in-between. Personally, it's my favourite song on the album musically and it is probably one our heaviest!
4. Drag You To The Grave
Drag is one of the first songs we wrote together as a band and the song has gone through a few different versions since then. Without a doubt, this is the best the song has ever sounded and the happiest we've been with it. Lyrically the song is about people (mainly on social media platforms) pretending be something they are not, portraying a fake life they really don't have and putting other people beneath them verbally. The song is basically a middle finger to them sort of people. Drag probably has our quietest part of the entire album where believe it or not… a clean guitar and bass solo can be even heard!
5. Heaven and Hell Can Wait
On Heaven there is a lot cleaner vocals rather than harsh, until you get to the bridge of the song of course. We really wanted to create a song that people can sing along too easily. This song is about fighting your inner demons and proving to yourself that you are worthy of whatever life you want to lead. No matter how hard you get knocked down, there is always a way back up and as cheesy as it sounds, we've all felt like there was no way back once and felt the lowest we've ever felt before. In my early twenties I felt like this, and I had to pull myself out of the void I had created in my head, that stopped me from doing anything productive in my life and moving on.
6. Undead
This one is about a girl I was with on and off for a while and it was incredibly toxic unfortunately. The song shows my point of view on events and how emotionally she didn't show anything to me and plays on the fact that she must be dead inside. A tough time in my early twenties but at least we got a song out of it haha. The chorus was the last piece of the puzzle in this song and thanks to Chris Clancy our producer for really forcing out a massive chorus from me vocally and giving the bridge an almost spooky feel.
7. Condemned
Condemned was the first ever song we wrote way back in 2016 and it had to be the album name because of this, and it sums up the album as whole overall very nicely! It's about trying to do good but no matter what you do, it never seems to be right, and you're forever trapped in this cycle. Again, this song has come a long way musically since it was first written, especially the chorus.
8. Breaking Down The Walls
Again with Breaking, we wrote very early on. The song is very similar to Heaven in terms of the lyrics behind it and its about not letting anything stop you from doing what you want to do. In life I had a few negative people I was surrounded by who would do nothing with their lives and constantly complain about everything and it is absolutely exhausting to listen too, so I can't imagine how exhausting it was for them. Best part of the song is the breakdown at the end so listen all the way until then haha!
9. Lesson Learned
Lesson is about my twenties and learning a lot about life, whether that's in relationship terms or how I want my life to be but mainly its about that same girl again haha! In 2017/2018 we wrote a few songs around the same time as I was going through the same situation with her and as musicians, we wrote about how we are feeling emotionally at the time. This was about me coming to terms with it all and realising its not going to be like this forever but a part of me will always remember. We are really proud on how this song turned out.
10. What You've Become
Definitely one of our lightest tracks on the album. The song has a lot more cleaner vocals than it originally did when we first started to write it. Lyrically the song is about thinking you know someone, and you give them chance after chance, but you begin to realise they will never change. At the begin everything is great but you slowly watch them become something you thought they would never be but always were. A bit deep but it's a fun sounding song and great to play live!
11. Demonised
This song is basically about being at war and doing whatever it takes to win that war! Through the eyes of a possessed soldier who needs only victory! It is definitely the longest track on the album and has a really fun dual guitar harmony during the solo.
12. Fade Away
The last track on the album was written during Lockdown and is about the emotions of being stuck in doors and surviving during one of the hardest and strangest times in a lot of our lives. A lot of people suffered mentally during this time and this song is a celebration of fighting through that and seeing the other side of COVID. It has one of my favourite guitar solos on the album.
For more the band, see - https://www.beneathembers.com/