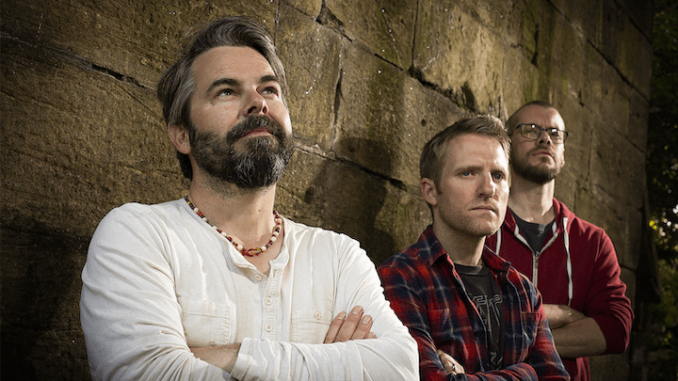 Track By Track: Prince Bishop - All Is Due
All is Due is the epic debut album from Brit prog rockers, PRINCE BISHOP. We exclusively spoke to the band to unveil this track-by-track breakdown of the record, which is out now, and includes their brand-new single, Soul Of A Man.
Stream the album here and check out his breakdown of the album below!
1. The Ghost of Goodwill
As the album intro, Ghost lays out the mood for what lies ahead both sonically and lyrically.  The music blends baroque strings with reverb-drenched guitars.  The lyrics deal with what we lose in a world of increasingly pervasive technology.  As with all the songs on the album, we were trying to create something elemental, enigmatic and mystical.
2. Come Alive
The 1st single off the album is a rocker with an uplifting message for these turbulent times.  It's a call for people to leave behind the things which hold us back in favour of the things, and the people, who help us grow and make us truly - come alive.
3. Return
A recent single and our 'pop-rock hymn'.  Probably the catchiest song on the album, it deals with the universal yearning we all have for inner peace. The chorus line
4. Soul of Man
This is an adaptation of an old Blind Willie Johnson blues standard.  Like the 70's prog bands we most admire (Floyd, Crimson), what we do is steeped in the blues.  I absolutely love playing this live as it tends to turn into a long jam which gives everyone a chance to do their thing and shine.
5. Why?
This is a song about Human Rights Abuses and Spiritual Persecution by the Chinese Communist Party.  Although the subject matter is heavy, we have tried hard to make this song positive and full of beauty, as there is always hope in times of oppression.  This is a song close to my heart and one I am really proud of.
6. Way of Things
My favourite album is Dark Side of the Moon - I adore the majesty of it, exemplified by the song Us & Them.  That was a big influence on this particular song, which I think turned out epic!  The chorus lyrics are based around the Serenity prayer, which is something of a reminder to myself - to take it easy and worry less.
7. Truth Lies in Between
Truth takes the listener on something of a journey, something I really dig in the music I listen too.  I am a big Jeff Buckley fan and I hear those influences in this production. We live in a world of increasing extremes and the lyrics deal with the subtlety of 'truth' and the fact that it is often found somewhere in the middle.
8. You Can Count on Me
My family experienced a very deep and personal loss during the recording of the album and this song really evolved as a result, so it started as one thing and ended as something quite different.  It became very much about the importance of sticking together through travails and the determination to see things through.
9. Roman Roads
This single was released earlier this year and was compared to the song 'Closer to the Heart' by Rush, which we thought was a pretty cool comparison!  Personally, like all our stuff I think it has its own sound, making heavy use of falsetto and harmonies.  Its a rocker and is about the importance of making your own path in life, not following the straight lines or (Roman) roads.