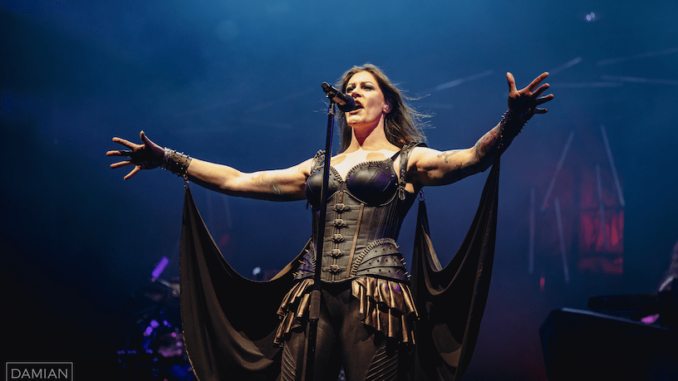 Live Review: Nightwish – Resorts World Arena, Birmingham
22nd November 2022
Support: Beast In Black, Turmion Kätilöt
Words & Photos: Damian John
To the sound of high pitched techno, lights rotating from white to pink - Finland's Turmion Kätilöt make their way onto stage, their backdrop consisting of a devil demon child foetus, it's sure to be an interesting performance.
Opening with Grand Ball from 2011's Perstechnique we get an insight into what Turmion Kätilöt are all about, vocalists Mc Raaka Pee and Shag-U work the Brummie crowd from the get-go raising their horns to the sky backed by disco beats. Following Grand Ball, we are posed with the ultimate question 'In England do you eat a Christmas Turkey or ham?' the Brummie crowd quickly expresses their opinions - has to be a Christmas turkey! Turmion Kätilöt play a concise six track set ending with Sano Kun Riittaa into Sikio, for a band who look as extreme as they do, all donning corpse paint akin to a nineties black metal band, they show us how to party in a true disco fashion.
Playing more conventional heavy metal, Beast In Black explode onto the stage with Blade Runner from 2021's Dark Connection album. Guitarists Anton Kabanen, Kasperi Heikkinen and bassist Mate Molnar all take centre stage raising their guitars in sync before vocalist Yannis Papadopoulos literally jumps onto the stage. Generally speaking I usually find synchronised guitar moves to be a bit cringey but when it comes to Beast In Black, they don't take themselves too seriously so it doesn't come across as rehearsed or cheesy at all. They follow with From Hell With Love into their self titled Beast in Black intro'd by Yannis asking if we're ready for some 'heavy metal' showing off his falsetto. There's a lot more movement going on now with guitarists running from side to side only stopping to stand front and centre to let rip with one of their face melting solos.
After a long wait Finland's Nightwish finally take to the stage, with sparks flying and flashes of light they open with the epic Noise. Vocalist Floor Jansen's voice soaring throughout the venue while surrounded by columns of light emanating from the stage. While Nightwish lack the same onstage energy as their two supporting acts, what they do provide is an expertly crafted wall of sound consisting of carefully thought out musical passages all topped off with Floors incredible operatic vocals. Noise leads into 2011's Storytime showcasing Floors incredible range and proves to be a fan favourite with its catchy chorus hook. Heating things up, quite literally, we get our first taste of pyro for the evening during Tribal with pillars of flame shooting up from all corners of the stage roasting the first few rows. Tribal leads into Elan followed by Dark Chest of Wonders and Sleeping Sun which sets us up for the heartfelt Harvest.
Nightwish close their set with two goliath tracks; Ghost Love Score into the aptly named The Greatest Show on Earth highlighting multi-instrumentalists Troy Donockleys superb vocals. Floor had everyone in the venue holding their fists in the air screaming 'we were here' as images of war, cities, beautiful landscapes and people of all backgrounds flash on the backdrop behind the band. This also included an image of the late Alexi Laiho, a fellow Finnish musician and frontman of the melodic death metal band Children of Bodom who sadly lost his life in 2021. Nightwish are a band who have been active for twenty five years now but there clearly isn't any love lost for performing and being on the road, all members had smiles on their faces looking over the Birmingham crowd as did the audience looking back onto their symphonic metal heroes giving it their all. They sounded incredible from start to finish with an expressive light show and just the right amount of pyro to compliment their stage show.