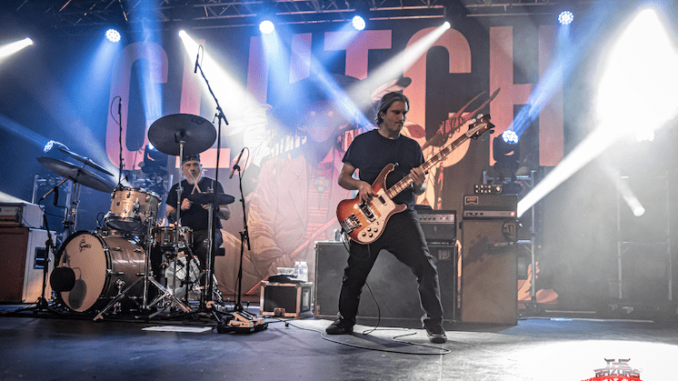 Live Review: Clutch - O2 Academy, Birmingham
14th December 2022
Support: Green Lung, Tigercub
Words: Cat Finch
Photos: Tim Finch
After a two year absence, thanks to COVID, Clutch are back for their annual winter tour of the UK and Europe. A tour we have waited a long time for, anticipation levels are high in Birmingham tonight.
Despite the train strikes the crowd builds inside the O2 Academy in the centre of town, quickly huddling together keeping warm from the chill of the buildings air conditioning, yes someone has put the air-con on instead of the heating tonight and it's a little chilly to say the least.
Clutch have a reputation for bringing interesting and lesser know bands on the road with them – Lionize and The Inspector Cluzo spring to mind – and tonight the tradition continues with Tigercub. The Brighton based trio have trekked around Europe with Clutch for five weeks and now back at home admit to needing a good shower and some vegetables. Their set a melding of energy and eclectic sounds, Queens of the Stone Age meets Royal Blood at times, which is no bad thing. The short but sweet performance was exceptional and a (literal) warm up for the rest of the evening ahead.
Green Lung should need no introduction to The Razor's Edge readership, we have been high on this outfit for a number of years now, and their recent signing to Nuclear Blast will just propel them to super-stardom in a short space of time.
Bathed in their usual dark green light, the band kick off with 'Woodland Rites' which leads us through to 'Leaders of The Blind' before frontman Tom Templar introduces the band. A performance soaked in folklore, witchcraft, and large doses of pure Sabbath worship its wonderful to see this band grow and find a new audience.
The haunting introduction of 'The Harrowing' makes the hairs on your neck stand on end, such is the aura it creates. 'Reapers Sythe', which would not be out of place on any Ghost album, is majestic in the live arena and the set is completed by the mesmerising 'Let The Devil In'. Whether you know of Green Lung or not, this time next year they will be all you are talking about!
With the appetisers out of the way it's time for our main course. Clutch are a no nonsense rock and roll act, there is no fancy stage show, no giant pyros, just four men and their music delivering the very best show around.
Opening with the lead track from their latest album 'Red Alert (Boss Metal Zone)' the band are tight and fast leading us into another new number 'Nosferatu Madre'. Now either someone has slipped something into my drink and I'm speeding like Bez from Black Grape, or Clutch are playing at breakneck speed this evening. The pace is high, a beat or two quicker than normal and this gives us a unique view on these classic Clutch tunes.
'The Mob Goes Wild' has long been a firm fan favourite and it's wonderful to hear it on the setlist alongside 'X-Ray Visions' and 'Firebirds! With such an extensive back catalogue, the band are in their element mixing up the running order every night, meaning we never know what to expect. 'Earth Rocker' and 'Willie Nelson' stand out as highlights this evening whilst 'The Devil & Me' appears in the Clutch performance for the first time since 2012!
'10001110101' kicks off an encore that includes 'Electric Worry' and 'The Face'. An evening coming to a close all too quickly, three superb bands rounded out with the rock masters from Maryland.
Merry Clutchmas Everbody!