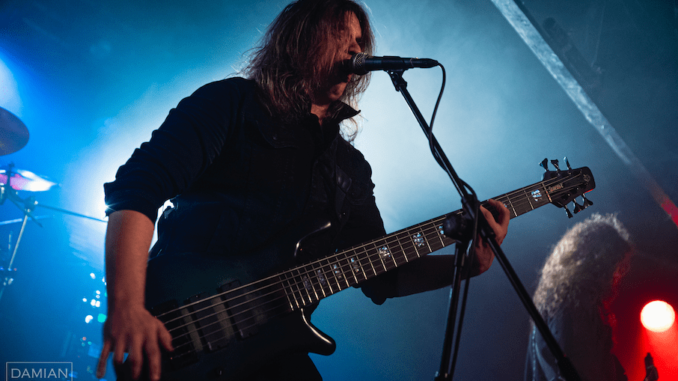 Live Review: Faces of Death Tour - The Asylum, Birmingham
30th November 2022
Featuring: Rivers of Nihil, Fallujah, Allegaeon, Inferi, Harbinger
Words: Matt Noble
Photos: Damian John
The opening slot to the Faces of Death tour goes deservedly to London's Harbinger, a hard-working, consistent and rapidly ascending act on the UK scene. Perhaps it's a matter of time before they headline venues as large as The Asylum themselves, but for today not even issues with the microphone can dampen a spectacular, brutal assault. With fantastic presence and anthemic melodic elements to accentuate the heavyweight brutal sections, their set seems to go all too quickly, though they pull a decent crowd for half six on a Wednesday. Technically brilliant but with heaps of groove, it's a recipe for success in the death metal scene and they get that balance just right. Their drummer puts in an absolute shift behind the kit and the lead guitar solos seem faultless. By the time the last notes of headbang heaven closer 'Guile' fade out, they're being hailed as heroes... A recommended band for any lover of modern extreme music.
Next up is Inferi - whose slightly blackened take on modern death metal continues to ignite the room and keep those energy levels at bubbling point. I was completely unfamiliar with them coming in tonight, the only band on the bill I did not at all, but shame on me! I'd take a headline set of this any day of the week. Though a lot is lost to drums in the mix - 'Maelstrom Prison', for example, has some excellent shredding and proggy instrumentals - their exuberant stage presence carries the performance and their dreadlocked frontman shows off with incredible gutturals. At one point, he holds an iconic figure as the bright light behind him shows just his silhouette. Inferi utilise tech-y grooves to inspire a crazy moshpit, and the crowd are very warm and receptive to them. I really hope to see Inferi back on these shores soon and can't wait to delve into them as a listener.
As progressive death metallers Allegaeon stride on to the avant-garde, flamenco stylings of 'Gray Matter Mechanics', the scene is set for a masterclass, a schooling by one of America's most cutting-edge extreme bands. Fronted once again by Ezra Haynes, after a seven-year break with the band, he's full of smiles and charisma. 'Vermin' is an excellent floor-opener, and their proggy, off-time, melodic tunes provide a nice contrast on the tour. The bill has been well picked - yes, all bands are heavy, but sound different from each other. They're super tight, and the guitar playing is truly dazzling, but with a lot of reluctance I do feel that the crowd as a whole don't quite warm to them as much as the preceding bands and their more direct approach. Regardless, this isn't through lack of merit, and Ezra's call-to-arms for pit leaders as the band tune down (all the way to drop E!) is a fantastic way of getting people engaged for '1.618'. It proves they're fun and don't take themselves too seriously, though the sheer musicality is jaw-dropping. They have firmly become one of the very best in the genre. Tonight shows why.
I find myself stood silently in awe for most of Fallujah's spellbinding performance. Having only seen them once before at the unfortunate slot of 11am one Bloodstock - and naturally a bit bleary-eyed and out of it at that time - I'm very hyped for this set and my word, they did not disappoint. Razor-tight, with a nice balance of floating atmospherics and grimace-worthy blasting, they give Rivers of Nihil a serious run for their money at the front of the bill. The changes in dynamics and speed are sudden, but don't feel jarring or disjointed. The songwriting and musicality is impressive - and isn't for the sake of being impressive for musicians. Still, there's probably a few in the crowd wow'ed by the synchronised guitar and bass tapping. The vocal performance is mostly quite harsh, but when they go into more melodic moments, frontman Kyle demonstrates a lovely clean sung voice, soulful and emotive. Final track 'Mindless Omnipotent Master', from September's 'Empyrean', is one of their heaviest, and a majestic way to close the set off. Of the three supports not from UK soil, they seem to leave the strongest impression on the uninitiated, and it can't be long before those at Faces of Death demand them back for another round.
In a similar way, it doesn't seem that long ago since I caught Rivers of Nihil opening up the bill for Revocation a few years ago, as part of a bill that they'd be pushed not to headline these days. 'Where Owls Know My Name' sent them into the death metal stratosphere, and last year's 'The Work' proved that it was no fluke. Tonight, they headline an even bigger venue than the one they opened in on the Revocation run, to a seriously packed room for a midweek gig. They were, however, fronted by Jake Dieffenbach last time they were in the UK (only in late August for Arctangent). For the last six weeks, bassist Adam Biggs has taken over lead vocals, and much of the discussion of tonight's set will focus on that.
Adam is clearly a very talented death metal vocalist in his own right. With an impressive vocal range, showing off both highs and gutturals, he makes the role his own, unafraid to be a frontman as well as a vocalist. 'We're finally here, Birmingham!' he calls out between songs, 'Faces of Death tour 2020-whatever-the-f*ck-year it was…' with a grin. He feels like a more natural growler than a clean vocalist, and he is still easing into this part of the role, not quite as strong with the melodic parts. One of the real surprises is the way that drummer Jared holds a seriously powerful singing voice behind the kit. Surely, we all knew that the instrumentalists in RoN could sing and scream, but maybe we hadn't paid as much attention to it when it wasn't at the forefront of the show. And yes, Adam still does all his crazy bass tapping while performing vocals simultaneously.
All three at the front of the stage give themselves a big, broad presence - they more than make up for Alex's absence visually - and it's a stunning moment as all three get involved in vocals for the big singalong of 'Where Owls Know My Name', backed up by pretty much half of everyone in attendance. The smooth sax-led interlude to 'The Silent Life' is always a set highlight, and the audience clap-along to 'A Home' shows the engagement. Penultimate track 'Episode' is a great way of dropping the mood before the big finale, and wide, excited smiles wash over the crowd as the tape intro to 'Clean' plays. Perhaps the rest of the band haven't quite matched Alex's vocal power (after only six weeks, remember!) but they're still the band of the night and put on a seriously mighty performance. The guitar work is on point, the drumming is like listening to the record, they're full of energy, charisma and fun - Rivers of Nihil going into 2023 are clearly still a force to be reckoned with.