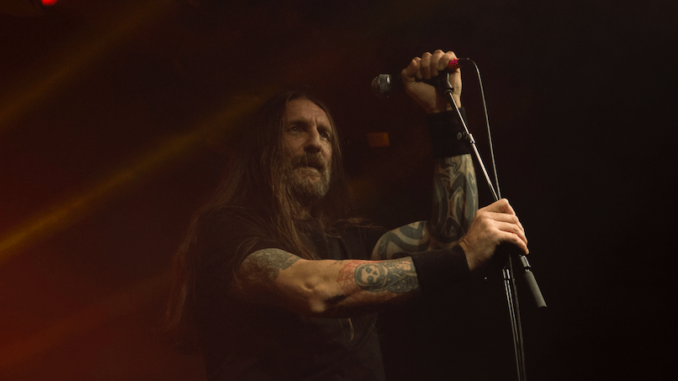 Live Review: Orange Goblin - Electric Ballroom, London
16th December 2022
Support: Desert Storm, Black Spiders
Words & Photos: Jacob Schwar
It was a bleak winters night in Camden Town, there were concert goers dressed in various doom/stoner merch all heading in the same direction for a night of true rock 'n' roll. Having arrived at the Electric Ballroom, I noticed the venue wasn't busy, I feared the ghastly weather and striking of the railways may have dissuaded a large chunk of the fanbase from coming along. Though all of a sudden as the first band prepared a large pouring of attendees filled the room, pints in hand ready to witness the first of tonight's performers.
The first band on were Oxford based sludge rockers Desert Storm who wasted no time in getting the crowd warmed up and ready. Opening their set with the catchy yet crushing tune 'Vengeful Gods' followed by the equally energetic number 'Queen Reefer' a song for which surely resonated with a number of concert goers as there was a faint whiff of the ganja in the air. Desert Storm were a perfect choice to open the night, getting us all acquainted with big chunky riffs and sludgey grooves which we'd be hearing a lot more of for the remainder of the night, they closed their set with a real banger 'Drifter' which got fans banging heads and having a boogie and away the band went.
Second up were Sheffield lads Black Spiders playing their signature take on rock 'n' roll with a heavy dose of stoner in the mix. The crowd were ecstatic during the performance as the band played a selection of classics such as 'What Goods A Rock Without A Roll' and 'KISS Tried To Kill Me' as well as some material from their most recent release eponymously titled 'Black Spiders' from 2021.
A real highlight was when leadsinger Pete Spiby pulled out the middle fingers and requested the crowd to do the same all before chanting a massive 'Fuck You' towards the band! That being said, the band themselves put on a spectacular performance with props especially to bassist Adam Irwin who was really in the moment and truly loving every second of it. I'd seen Black Spiders previously only the once at Bloodstock 2021 and was blown away, last night was equally impressive and so they come highly recommended from myself for fans of good old rock.
Finally we come to the headliners and the main reason we've all traversed the winter temperatures and god-forsaken rail strikes to be here tonight, it was time for Orange Goblin. As the lights dimmed out came band members Chris Turner on drums, Joe Hoare on guitar, Harry Armstrong on bass and the man himself Ben Ward on vocals. A real stage presence Ben has as the crowd were going mental once he appeared. Orange Goblin were celebrating the 20th anniversary of their incredible album 'Coup De Grace'" released back in 2002 and so opened the full album set with 'Your World Will Hate This' which got the crowd moving for sure.
Following this they went straight into the groovy 'Monkey Panic' and 'Rage Of Angels' with its intro featuring a quote from the film Convoy (1978) which the crowd mouthed word for word. The next song 'Made Of Rats' was a personal highlight being my favourite song on the album however my inner Kyuss-fanboy was hoping John Garcia would grace us with his presence for this track especially, alas we were not blessed but Ben Ward did a fine job as always. Overall it was real treat to hear some old school album cuts such as 'Red Web', 'Whiskey Leach' and another favourite 'Jesus Beater' which aren't necessarily set staples, the audience were loving it as well which shows just how much the earlier releases are appreciated!             
Photo credits: Jacob Schwar