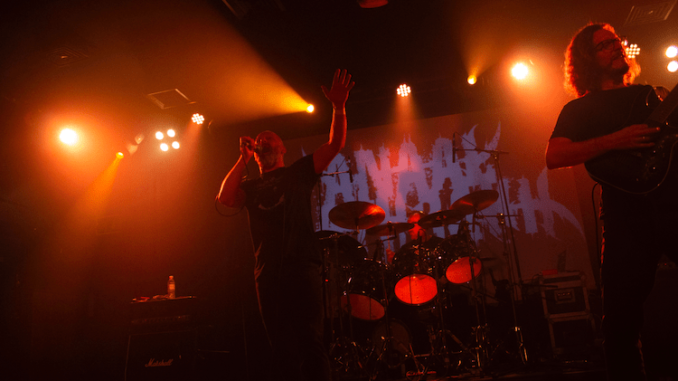 Live Review: Anaal Nathrakh – Scala, London
14th December 2022
Support: Sigh, De Profundis
Words & Photos: Jacob Schwar
Having braved icy streets, minus degree's temperatures and the dreaded rail strikes in London, I was surprised to see a large queue of die-hard fans already waiting patiently to enter the venue especially on a Wednesday night. However I think we can all agree a line-up as appetizing as this could not be missed.
First up on tonight's bill were local lads De Profundis, one of the city's finest purveyors of progressive death metal. They opened their set with the blistering track 'Martyrs, its intro featuring an Islamic chant that surely got a few hearts pounding. We were then treated to a nice chunk of new material from their recent release 'The Corruption Of Virtue' with my favourite of which being 'Weaponised Rape' a ferocious yet catchy number with great proggy guitar and bass sections. All in all, it was a welcome sight to see a large turnout in crowd for De Profundis considering the harsh weather and train strikes, they finished up with a real belter 'War Be Upon Him' and off they went to a well-deserved applause.
Not too long after, the lights dimmed and we were greeted with another chant, however this time it was from much further east, Japan to be exact. From the dark corners of the stage came guitarist Nozomu Wakai, drummer Junichi Harashima and with a big cheer came lead man and bassist Mirai Kawashima, this is SIGH. Having been 12 years since their last UK show, the crowd were ecstatic to once again see Japan's finest blackened avante garde trio up on stage doing what they do best.
They opened the set with the bizarrely proggy 'The Transfiguration Fear' soon followed by a welcome classic 'Hail Horror Hail' the title track from their 1997 album. The set consisted of some great and obscure songs from their experimental discography though being a big fan of their early material it was a real treat to hear 'A Victory of Dakini', 'The Knell' and 'At My Funeral' live and to witness the crowd going mental.
During the set guitarist Nozomu Wakai, who I should mention was dressed up in corpse paint and leather, pulled out a massive samurai sword and began to chant at the crowd. Though having played a fantastic set of SIGH material, it seemed only right they should include a cover of Venom's 'Black Metal' to finish up an outstanding performance, it was heart-warming to see lads and lasses singing their hearts out to the lyric "Lay Down Your Souls To The Gods Rock n Roll!".
After a great set from SIGH, it was now time for the headline act, all the way from the West Midlands, Anaal Nathrakh! Though I should mention Anaal Nathrakh were debuting their new live line up including members of Akercocke and Voices. Sam Loynes on guitar and the legend that is David Gray on drums. Out came the band with Dave Hunt aka V.I.T.R.I.O.L at the helm and straightaway they kicked into the devastating intro 'Acheronta Movebimus',followed by the track 'Unleash'.
The sonic onslaught was to continue as they played a personal favourite 'Between Shit and Piss We Are Born' though it was around this time that lead singer Dave expressed his disapproval at the lack of attendee participation and so requested a wall of death to get things moving, the crowd happily carried out his request and its safe to say a pit was present throughout the rest of the set. Anaal Nathrakh went on to play a monumental set consisting of some old school bangers and a selection of fairly new material including a couple tracks from their previous album 'Endarkenment' released in 2020 which were played live for the first time. I must also mention the sound quality was excellent overall for all the bands but especially for Anaal Nathrakh who sounded better than ever having seen them live a few time previously, this time however was a performance I won't forget too soon.
Photo credits: Jacob Schwar