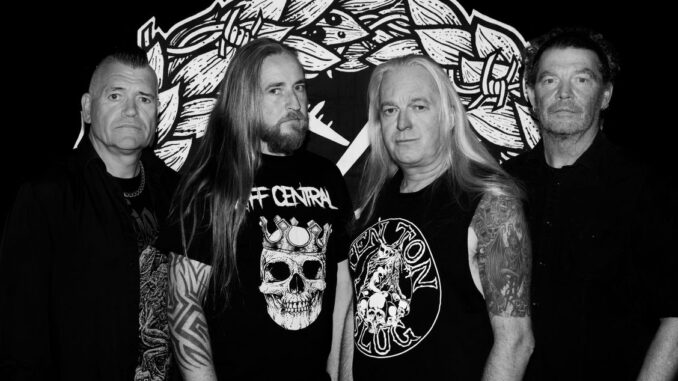 Album Review: Memoriam - Rise To Power
Reviewed by Richard Oliver
Since their formation in 2015, UK death metallers Memoriam have been a force to be reckoned with and one of the most consistent and hard working bands in the genre. The band have been on an absolute roll and 2023 sees the release of their fifth album Rise To Power which is the second part in the band's second trilogy of albums.
The first part was 2021's To The End which saw the band branching out slightly being a far darker and more morose album with some big nods to doom metal coming to the fore in their sound but retaining the key elements of the Memoriam sound established on the previous three albums. Rise To Power again sees the band taking the Memoriam sound to some different places but is again unmistakably Memoriam. One thing that is apparent is a greater use of melody throughout. Don't get me wrong Memoriam haven't switched to a melodeath sound but there is a subtle use of melody which really adds to these songs whilst not becoming overbearing and detracting from the death metal core of the band. This can really be heard in songs such as I Am The Enemy and The Conflict Is Within which have a far slower pace and carry over that doomy morose feeling from the previous album.
Memoriam still knows when to take your face off though as powerhouse slabs of death metal groove such as Never Forget, Never Again (6 Million Dead) and Total War will threaten the structural integrity of your house if played loud enough and see the band on truly vitriolic and caustic form. This album really comes into its own on songs which combine the punishing death metal groove with moments of melody and atmosphere such as album closer This Pain and my personal favourite Annihilation's Dawn.
Memoriam continue to prove that they are a band that are not going to sit still and play it safe as each consecutive Memoriam album has differed slightly from the other. The key components of the band's sound is present and correct on every album but each album brings something different to the table whilst never detracting on what makes Memoriam the band they are. Rise To Power is no exception and is another fine addition to the Memoriam discography. The band consider Rise To Power their strongest album to date and whilst I still see Requiem For Mankind as the bands finest moment to date there is absolutely no denying that RIse To Power is a fantastic record from one of the UK's best death metal acts.