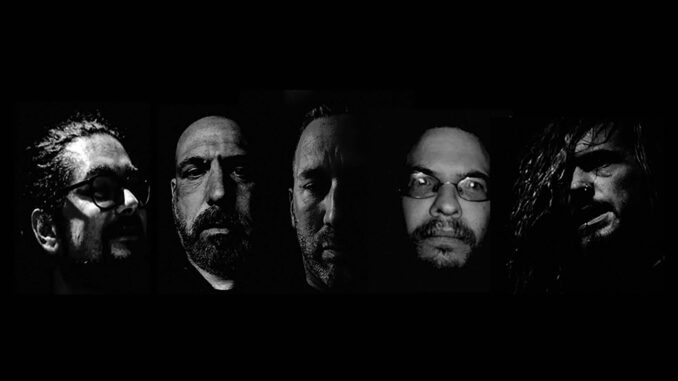 Album Review: Grief Symposium - ...In the Absence of Light
Reviewed by Neil Bolton
Church bells ominously chime on the opening track to Grief Symposium's debut album '...In the Absence of Light'. Monastic chanting wails in the background until the growling, menacing vocals shatter the atmosphere.
Slow doom metal riffs are the focus at this stage of the East Anglian foursome's thoughts. This slows down even further to a funeral doom pace before the mayhem reigns. Speed is now the linchpin of this furious section. These transitions of speed are faultless and draw the listener in from the outset. A spoken word section makes an appearance leading me to think what could possibly be left to experience in this album. Then it hits, a massive compelling riff that pleases, and shakes the head.
The second number 'Temple of Decay' does not let up on the pressure; a nice trad sounding riff haunts the darkness of this tune. The death/doom of these guys is an enjoyable mix that does not contain itself to these two styles.
A nine minute monster crawls up next. 'In The Shadow of the Sleeping Monarch' begins with a spoken sample letting us know there is a sickening combination of styles to infect the soul on its way. On a side note this is this point I decided to turn the volume up even more on my first listen. The trad riffs once more hits the heights.
This band have every intention of doing what they want and not following any rules. This is a difficult path to embark on as you have to be proficient in all genres attempted . Fortunately 'Grief Symposium' excel in their style-mixing ways. The keyboard section of this tune is a perfect example of this skill.
The long epic holds no fear for these guys as the album is closed by a track twice as long as the one mentioned above. Sit down, get comfy, because you are going on a journey. Your sonic voyage begins peacefully with strange comforting sounds and a descriptive narration of your cosmic adventure. This floating soundscape of a track is more of an experience than a song. It is an experience I highly recommend though.